Lighting is an element of the wedding that can create an atmosphere unlike any other. It is a stimulant to the eye and makes you pull out your phone right away to capture the special effects our lights bring to the wedding. Here are some reasons why lighting is important for your wedding. If you want new music lists on Spotify, Apple Music, Youtube or want some Non-Stop Mixes, fill out the form on this page.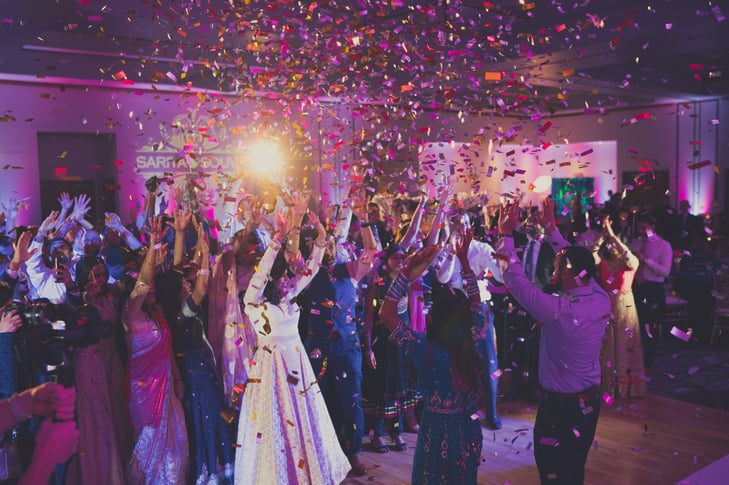 1) Personalize the room
Lighting can transform a ballroom from looking like an office meeting space to an extravagant wedding. It can bring a ballroom to life and make you feel like you're in paradise. You dream it up and we make it happen.
2) Pictures and Video
Your photographer and videographer will love our lights. Your wedding album and highlight video will keep you smiling as you see how the lights made everything better.
3) Decor will look even better
The lighting doesn't only bring the ballroom to life but also the decor. Decor is a big part of your wedding and you can enhance its vibrant colors with amazing lighting.When we setup the lighting, it will highlight different aspects of your decor, all around the room.
4) Your guests will love it
Your guests will walk into the room saying how amazing it looks. They will be mesmerized by how beautifully everything came together from your names written all the walls to the complete transformation of the ballroom.
5) Lighting during your program
With us controlling the room lighting, the possibilities are endless. Imagine what you can do with lights during your main program. As you make your grand entrance, the moving spotlights can follow you in and highlight all main parts of the program. During your first dance the entire room can become another color to give that wow factor to this moment. These are just a few examples of what you can do with lighting and it only gets better!
6) Lighting during dancing
During the dancing portion of the evening we can create an amazing synergy of music and lighting to blow your guests away. When all your entertainment come together, you're bound to have the time of your lives. From your friends on their phones to your professional photo and video team, your pictures and videos will be amazing.
The DJ Riz Entertainment team takes pride in every wedding we are a part of. We enjoy creating the perfect light show with our state of the art lighting. Lighting can help tell your story.
A wedding is the happiest moment in your life. Over our 25 years of bringing joy to thousands of couples, the DJ Riz Entertainment team is always working to make each wedding great. If you would like to talk to us about being a part of your wedding, contact us here. If you want new music lists on Spotify, Apple Music, Youtube or want some Non-Stop Mixes, fill out the form on this page.
If you liked this blog, check out our blogs focused on Tips and Music.