Over the past 25 years, we have worked with thousands of amazing couples across the world. With every passing year, great Indian wedding DJs evolved. Todays amazing entertainment companies strive to help couples ranging from ones that know exactly what they want to others that need a lot guidance. Over the past few years, across the world we have seen Indian wedding receptions online and in person that might've benefited from this blog. Although we can't help them, we would like to help you in your planning process.
When making this blog we kept our couples in mind. Half of the Indian weddings we DJ are with both the bride and groom being of South Asian descent (Hindu, Christian or Muslim). The other half of the weddings we do are mixed or fusion weddings where one person is from South Asian descent and the other is not (White, Black, Hispanic or Asian).
8 Things to know before booking your Indian Wedding DJ Notes:
We have heard couples, their families and guests bring up these issues.

As much as we would like to be a part of all the great Indian weddings that happen worldwide, we can't do them all.

This blog is not about you booking us for your wedding (but if you want to, contact us here) 😉

This blog is about how you can tell the difference between a professional DJ company and part-time amateur dj
8 Things to know before booking your Indian Wedding DJ are ranked in order of importance.
1) Experience
Experience is crucial. Your wedding is the most important day of your life. Don't risk it with someone that doesn't have the right experience. Experience is broken down into three parts. How long have they been djing weddings, how many wedding have they done and how much experience do they have with weddings like yours. Someone djing for 10 years that mostly did birthday parties or clubs is not the same as someone that only does weddings. Our company just celebrated 25 years in the Indian wedding industry. Someone may also claim to be djing weddings for 10 years but only do 5 weddings per year (50 over 10 years). Another DJ could do that many wedding in 1 year. Over the last 5 years we average 250 wedding related events per year. The most important part of the experience comes down to, do they service couples like you? If you are a mixed/fusion couple, you need someone that understands both sides and knows what to play. If you are a Gujarati couple, are they going to know what garba music to play and do they have lagan geet? If you are having a Telugu ceremony, do they know what background music to play during the wedding? If you are Mallu, do they know what happens right after dinner is over or what is the milk ceremony? Don't get stuck, teaching someone what to do when; instead hire someone that already knows what to do and can help guide you on ways to make it better. Fill out the form on this page and we will send you a list of questions to ask your potential DJ vendor.
2) Talent (Presence of Mind)
Often mistaken with experience. As much as I would hope that experience and talent go together, that isn't always true. For many people this goes hand in hand but there are many people who fall into the exception rule. Many DJs are self-taught. So after they do a hand full of weddings they think this is the best way to do events. You can't teach an old dog, new tricks. They get stuck in their ways and because of that, they don't grow as performers. Talent is truly a gift. Its like you are born with a certain amount, and if you find your calling and you focus on getting better, it grows. We spend hours every week talking about how all of our weddings went, what were the best parts, how we can make next weeks weddings better. Its that talent that will make a wedding better by saying something funny, emotional and not letting awkward silences bring the vibe of a wedding weekend down. Check out the social profiles of your potential vendors and see if they are a good fit for you. Follow our Instagram page for more advice and tips.
3) Equipment
Do they own professional grade equipment? How does their setups look? You can see this in pictures and videos online. Imagine that wedding being yours, would you be happy? If you are happy with their overall look and people similar to you are in videos and pictures having fun, you might have found the best DJ company for you. Along with a full list of questions, we are also giving you what to expect in terms of answers and what is a good answer for these questions. Fill out the form on this page so you are prepared. Check out some highlights from a few of the weddings we did last year.
4) Size of the team
The size of a team isn't important if everything goes as planned. Life doesn't always go as planned. If the DJ gets sick and he works alone, you have no backup for your wedding. When working with a big team, they will always have you covered even in the most unpleasant situations. We have one of the largest Indian Wedding DJ teams in America. Our team of 12 DJs can technically do 12 weddings in a day. The closest we got to that number was 10 weddings in one day. We have since changed our policy. Instead of a large team meaning we can do more weddings in a day, we chose it to stand for stability and peace of mind for our couples. Now we only take on three weddings on the same day. This means each wedding gets two great DJs and for each wedding we have two on-call for emergencies for that specific wedding. All 4 of them have the timelines, layouts and music needed for all the events the couple is hosting. This gives everyone peace of mind that they are going to be covered. Financially, this might not be the best thing for our company in the short-run but its best for our couples and thats way more important for us. Here is a picture of most of our DJs. We couldn't get everyone there before the event started. We need to plan another event soon.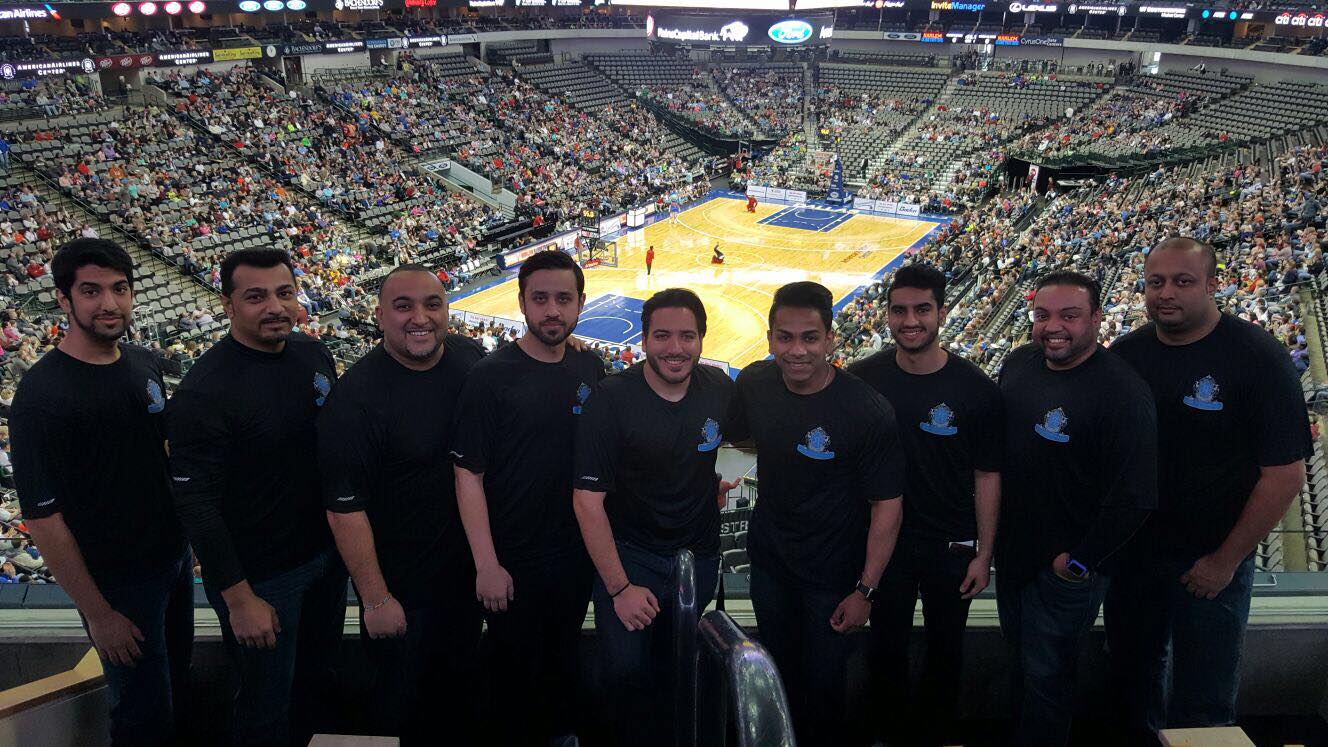 5) Reviews
If they have been around for over 10+ years and you can't find any reviews online, there is a huge problem. There are a few places you can look online for reviews that are user generated and the DJs can't change what is written about them. Check out WeddingWire, The Knot, Yelp and Google. See what people are saying about them. Look for people that you know that have reviewed them. If you know someone personally, call them and ask them about their experience and if they would recommend you to have the same DJ. Check out their work on Maharani Weddings. Are they being featured or published anywhere? You may be able to find pictures or videos of events you have attended or couples you know. Reach out to them. Having a bad or unprofessional DJ will ruin your wedding weekend. Research and know what you are getting into. Fill out the form on this page and we will send you a list of questions to ask your potential DJ vendor.
6) Reading a crowd vs Playing a list
There seems to be this struggle amongst DJs as to what works best. Often people work in extremes. The old school thought is to play completely based on the crowd. They watch the crowd and play the tracks that they feel most people will like and use that to keep them on the dance floor. Lets say you like hip hop but most of the guests at your wedding like Bollywood. The DJ will play more Bollywood to keep more people on the dance floor. Some people are ok with that, most aren't. The playlist DJ will have a set list based on your taste and strictly stick to that. Same situation, now you have all of your friends and you on the dance floor because he is playing hip hop, but the rest of the guests are sitting out because they want Bollywood. There are 2 solutions to fix this. First and most importantly, give your DJ a list of music that you and your guests will enjoy. You can even give approximate percentages of each type of music. This way your guests are happy and you are having a great time. The second solution is, find a DJ that can do both. We give our couples 200 songs and ask them to pick out their 50 favorite. This gives us an idea of their taste. We then prepare by adding other songs we think the couple will enjoy based on their list. We call this the science part of what we do. During the event is where the art part comes into play. We carefully watch the crowd throughout the event to see how they react to music. We pick out the groups of people we think will dance. Once the dance floor opens we already know what they will like so we keep them happy as well as make adjustments to make it a great night for the couple, their friends and family.
7) Music knowledge
Think about the types of music you want played. If you want to hear EDM all night, then a Hip Hop DJ doesn't make sense. Lots of DJs claim to be able to play any type of music (not true) but really focus on a few. Think about the genres of music you want to hear on the dance floor. If its American Top 40 and Bollywood then don't go to a DJ thats going to play Bhangra and Hip Hop all night. Everyone has a specialty and music they really like to hear. We match up our couples with our DJs that have similar taste in music. This way the DJ loves being there and can bring a lot more to the table in terms of making the music better and couple happy. If you need a DJ for your wedding that knows great music and will take care of you, contact us here.
8) Awards
Awards are for DJs that go the extra mile for their couples. We have won many awards over the years. Most recently we have won The Couples Choice award from WeddingWire, 4 years in row. We have also won the Best of Weddings award from The Knot, 4 years in a row as well. In fact, The Knot has recently given us the Hall of Fame Award for Excellence in Wedding Entertainment. Your DJ doesn't have to win all the awards, but should at least have a few awards to tell you about. Fill out the form on this page and we will send you a list of questions to ask your potential DJ vendor.
If you liked the 8 Things to know before booking your Indian Wedding DJ blog, check out our blogs focused on Venues, Vendors, and Music.
A wedding is the happiest moment in your life and you should choose vendors that you will love working with. Over our 25 years of bringing joy to thousands of couples, the DJ Riz Entertainment team has helped create memories for a lifetime. If you or a friend needs an Indian wedding DJ that will take the time to understand what you need and help make your wedding weekend perfect, contact us here for more information on our services.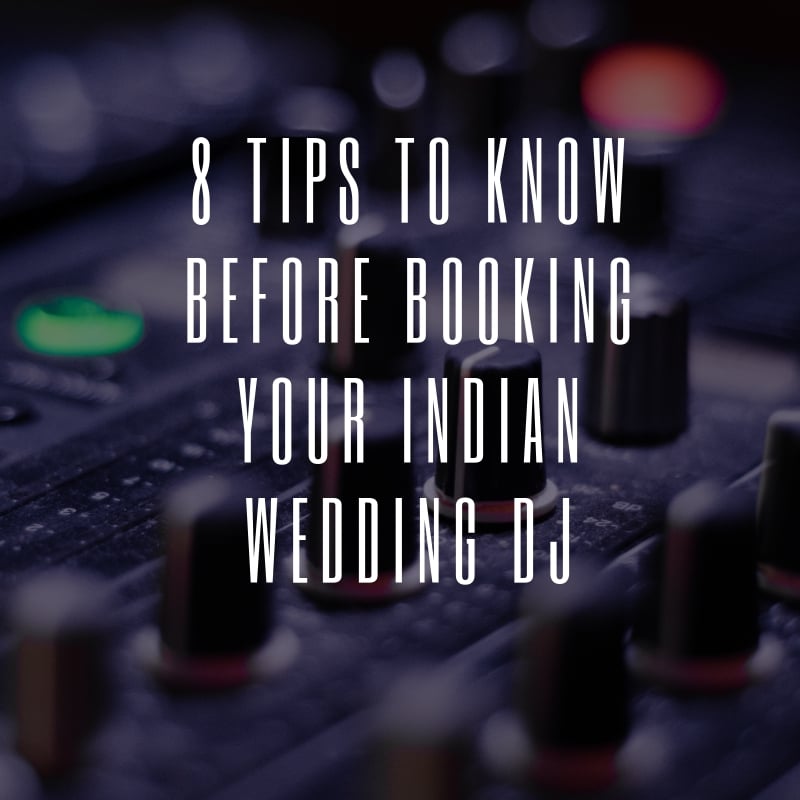 Photo credit: DJ Riz Entertainment