Over the past 26 years, we have worked with thousands of amazing couples across the world. Recently we have seen many couples spend a lot of time, money and energy trying to figure out whether to keep or postpone their wedding date. With the COVID-19 Pandemic at large now, we're seeing many more couples stuck at home and waiting anxiously for their special wedding weekend. We started the DRETalks to lighten up the mood, give couples helpful advice, and of course keep everyone entertained. Here you can find how to enjoy Happy Hour at Home while making the classic Old Fashioned cocktail.
1) Ingredients
Bourbon, Regular Whiskey, or Rye Whiskey: 40-45% alcohol volume

Bar Syrup: "First Call" Simple Syrup is the fan favorite

Aromatic Bitters: Make sure they're aromatic and not regular bitters

Oranges

Ice: 2 kinds, regular ice and ice blocks

2) Tools
Measuring Glass: helps your bartending skills become more consistent

Spoon: a mixing spoon that is metal and curvy

Peeler: use a metal peeler

2 Serving Glasses: wide enough for ice blocks to fit

Strainer: once the drink is made, use a strainer to pour out the drink into the glass without having any extra ice making its' way into the glass

Here is the link to the

Whiskey Stones and other great Father's Day Gifts.

3) Recipe
Step 1: 1 oz Simple Syrup in the measuring glass

Step 2: 4 Dashes of Aromatic Bitters

Step 3: 3 Orange Peels

Step 4: 4 oz of Bulleit Rye Whiskey

Step 5: Mix it altogether.

Step 6: Add the whiskey

Step 7: Add ice

Step 8: Mix it once again.

Step 9: Use a strainer to pour the cocktail into the glasses

Step 10: Enjoy!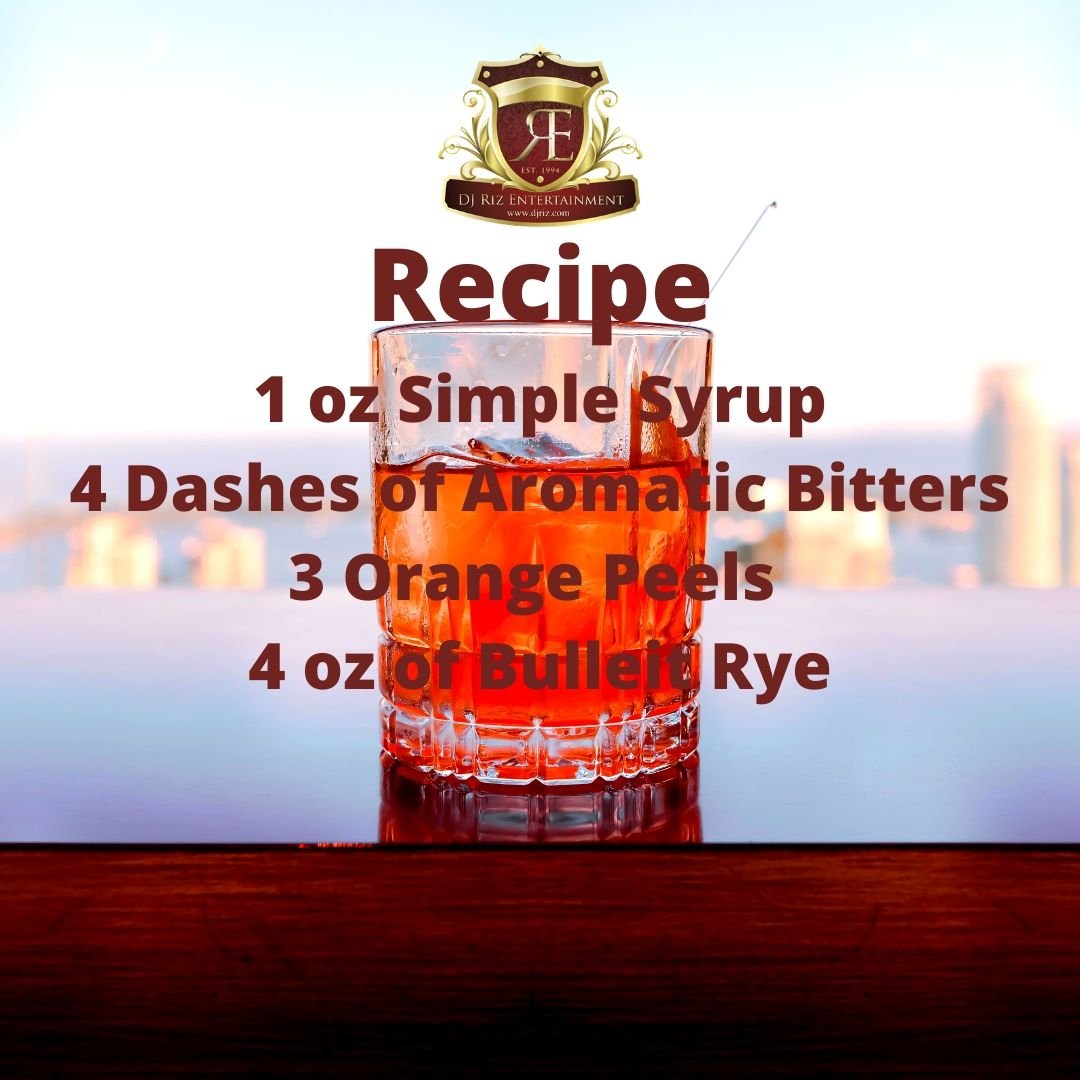 As we hope for better days to come soon, we want to let you know you're not alone, and together we can all get through this. Over our 26 years of bringing joy to couples, the DJ Riz Entertainment team has been a part of thousands of couples dream wedding weekends. We look forward to making many more thousands of couples happy once the COVID-19 Pandemic has passed. In the meantime, please stay safe and stay home. And a big shoutout to our frontline workers. Doctors, Nurses, Pharmacies you guys are the true superheroes.
If you liked the Happy Hour at Home blog on how to make the Old Fashioned cocktail, check out all our blogs focused on Indian Wedding Tips.