Although we do many Indian Destination weddings every year, we wanted to share a few of them. We have been blessed to entertain at events in England, Spain, Africa, Hawaii, Costa Rica, Cancun, Cabo, Canada, and all over the United States. We get contacted for many Indian destination weddings that happen worldwide. Every year we try to do as many destination weddings as we can. We know what couples need from us when hiring us for destination weddings. This is very different than local weddings. Make sure you hire someone with a lot of experience in destination weddings. Some DJ's will have trouble with customs, travel, equipment and venue. If you need a DJ with world-wide experience with Indian destination weddings, contact us here.
The main purpose of this blog is to share with couples a guideline to a smooth Indian destination wedding weekend. If you want new music lists on Spotify, Apple Music, Youtube or want some Non-Stop Mixes, fill out the form on this page.
Indian destination weddings can be a lot of fun for many reasons. The number of people attending is smaller than the typical big fat Indian wedding. This means you will have only the people you care most about with you. Everyone will be away from their usual life. This means they will be focused on celebrating your wedding instead of worrying about work, driving, cooking, etc. Being a part of Indian destination weddings is an amazing experience and we love making each destination wedding unique. Destination weddings can have any combination of a welcome party, sangeet, baraat, ceremony, cocktail hour, reception, and after party. We provided tips to help you plan your wedding.
Check out these destination weddings we have been a part of:
1) Priti & Jay
Here's a recent destination wedding from Cancun celebrating this amazing Gujarati couple. They used the beautiful water as a backdrop to make the experience for the guests amazing. They also used a big indoor space to accommodate their large guest count. Tip: you can do a big destination wedding instead of an intimate one.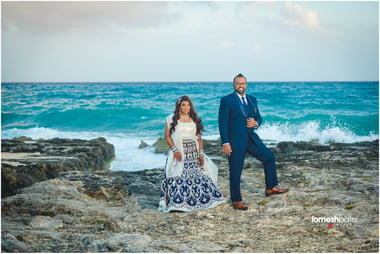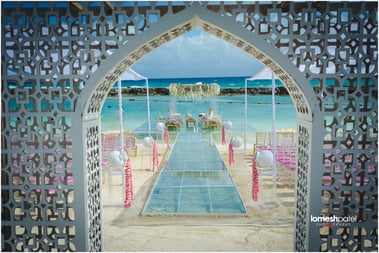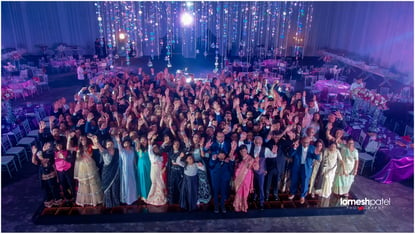 2) Christina & Jerry
We had a blast being a part of Christina and Jerry's wedding weekend in Cabo. This Malayalam couple really knew how to party. Tip: don't forget to plan for performances. Many Indian destination weddings skip it, don't be one of them.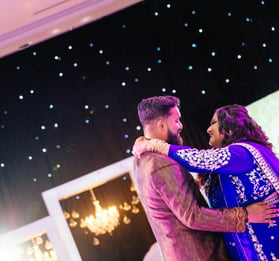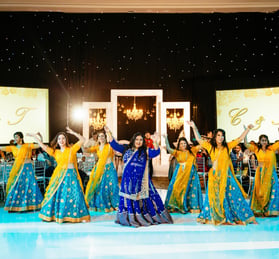 3) Salima & Awaiz
Three days of nonstop fun in Cancun celebrating a lovely Ismaili couple. Salima and Awaiz really took the Ismaili traditions to the next level with the beautiful Cancun scenery. Tip: Do things you can't do at local venues. We loved djing this EPIC FOAM PARTY!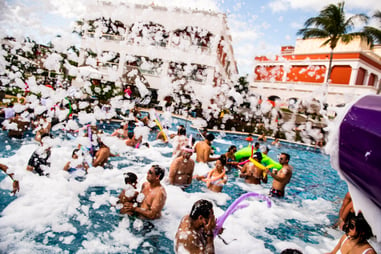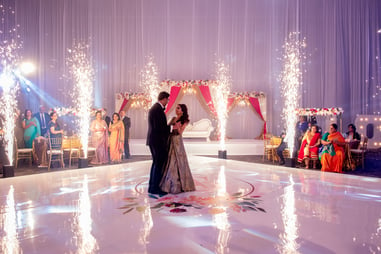 4) Rachel & Manu
Each event for this fusion couple was a blast. Rachel and Manu extended our DJ's stay there to keeping the party going till the next morning! Costa Rica will remember this wedding for a long time. Tip: talk to your venue about extending the end times of the event before booking.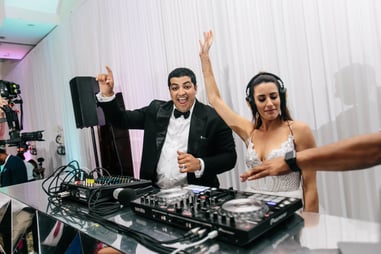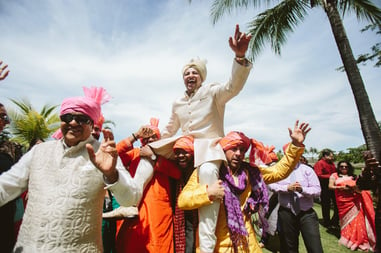 5) Tina & Samir
Tina and Samir are a Hindu-Punjabi couple that held their destination wedding in Cabo. Tip: Post haldi, take a dip in the water and make sure you get it captured.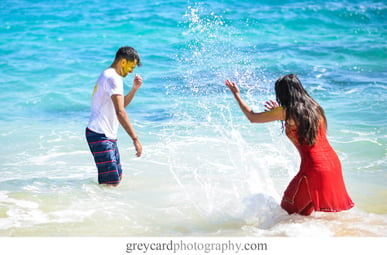 6) Sabrina and Hafiz
We traveled to Tanzania, Africa to celebrate Sabrina and Hafiz for a three night wedding extravaganza. Luxury weddings in the eastern hemisphere are truly next level. They had a beach party to kick things off, entered on a real rickshaw at the sangeet, had an amazing reception setup and we djed until 4am. Tip: most couples don't know that they are responsible for getting equipment for their Indian destination wedding. If you want to know what you need to think about before hiring an Indian destination wedding dj, contact us here.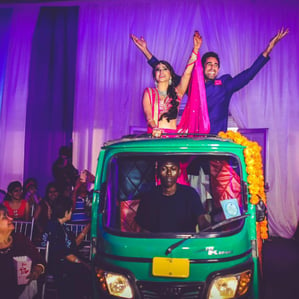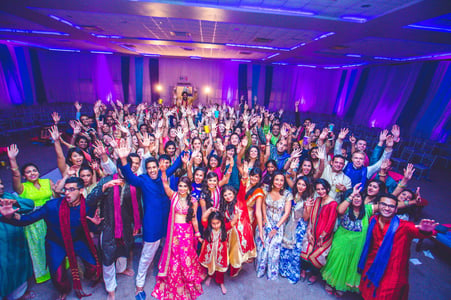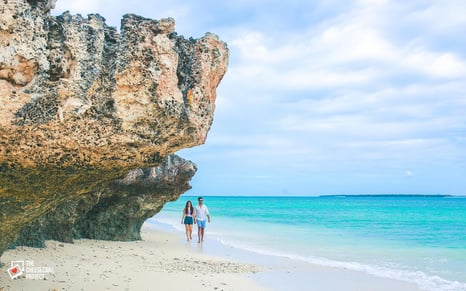 7) Krupa and Greg
Barcelona, Spain is beautiful in pictures but even more beautiful to experience in person. We had the opportunity to entertain at Krupa and Greg's fusion wedding weekend. The sangeet was at a castle with a pool and a view of the ocean. The baraat and wedding took place at another castle with amazing architecture. The reception was outdoor at the hotel pool. Tip: find unique places for each event but make sure all the guests have transportation both ways.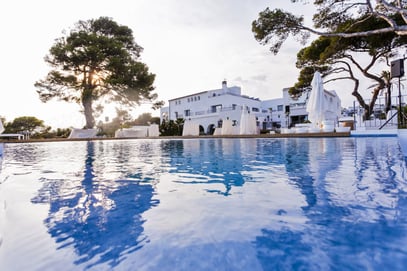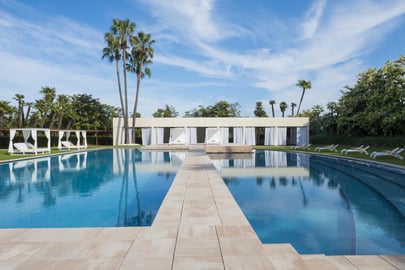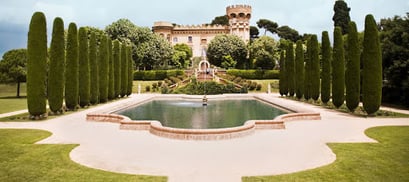 8) Salimah & Ayaz
Cancun really loved hosting this couple. Salimah, Ayaz, and their guests partied nonstop each night and people are still talking about it to this day. Tip: if you can't extend your event hours but want to keep celebrating, find an offsite club for an afterparty.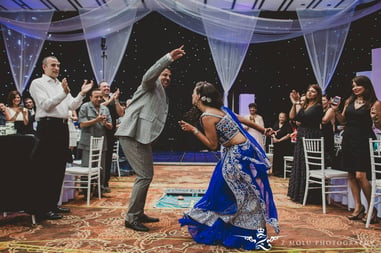 9) Eram & Rehan
Eram and Rehan's wedding took place in Cancun. They set the bar real high on how much to party there! Tip: schedule lots of time to take pictures by the water. The pictures come out great, they make your wedding different and you will always look back and enjoy these photos.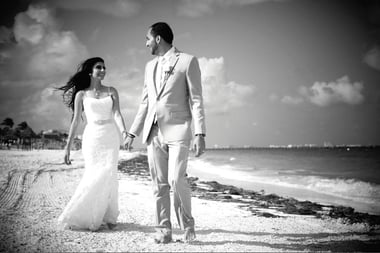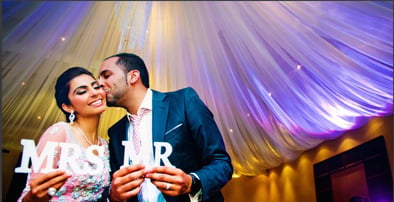 10) Nisha & Sachin
Another fusion destination wedding we loved being a part of. Nisha and Sachin knew exactly how they wanted each event to go in Cancun and we helped in bringing that vision to life! Tip: plan to come a few days before your wedding to avoid any travel issues. Stay a few extra days after your wedding to relax before you get back to the real world.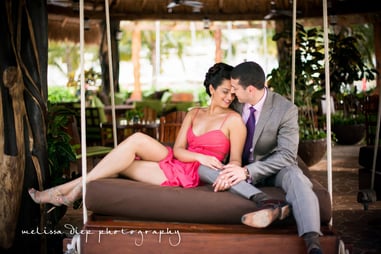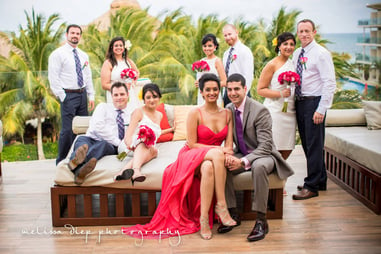 Indian destination weddings are a great way to do something different. Understanding and balancing tradition with a destination vibe is our speciality. We are experienced across many destinations and love being able to make each wedding unique. No matter where your Indian destination wedding is taking place, we can make it fun. You bring the people and we will make it a party. If you want to talk about your wedding, contact us here.
If you want new music lists on Spotify, Apple Music, Youtube or want some Non-Stop Mixes, fill out the form on this page.
If you liked this blog, check out our blogs focused on Tips and Music.