Estimating your guest count is key in choosing the right venue for your Indian Wedding. We have done more Indian Weddings in Dallas than any other company. Smaller venues will tell you they can fit your guest count, but they may not be taking into account how big you want your stage and dance floor to be. Also think about things like putting you buffet inside vs. outside, projectors, screens, LED walls, decor, etc. All of this plays a vital role in which size venue you choose.
Our list of Top 11 Dallas Indian Wedding Venues For More Than 500 Guests benefits each couple that wants an amazing wedding weekend. We began working on this blog series to help connect couples with their dream venues. When coming up with this list we thought about events that are part of many Indian Weddings (Hindu, Christian, Muslim). Pre-wedding celebrations such as the Garba, Sangeet, and Mehndi nights can be held in the smaller ballrooms, there is a clear path for baraats, and the larger ballrooms are spacious enough for the traditional big fat Indian wedding. Fill out the form on this page and we will send you the direct contact information for each of these venues.
These venues are the top choices of couples that recently have gotten married or are currently booking venues for their big weekend. The order of Top 11 Dallas Indian Wedding Venues For More Than 500 Guests is based on our bookings and inquiries we have received for this year. If you want the direct contact for each of these venues, fill out the form on this page.
1) Renaissance Legacy West - Plano
Renaissance Plano finds it's home at Legacy West, which is a big attraction landing in Plano and is an extension to the Shops at Legacy. The hotel opened in the Summer of 2017 and could be the perfect place for your wedding. We love being the first Indian Wedding DJ's at new venues. We were there for the first Indian Wedding in November 2017, but check out how much fun Molly and Naveen's reception was more recently. Contact us here if you need a DJ.
2) Omni Dallas Hotel
This venue lights up the Dallas Skyline with its amazing LED exterior around the building. Couples that want top tier weddings can use one of their two spacious ballrooms the Omni has to offer. Here is a video of a wedding we did at the Omni Dallas for Rohan & Rishika. South Indian Groom and Punjabi Bride. They had their Sangeet, Baraat, Wedding and Reception at the Omni. The festivities begin with the Sangeet in the Dallas ballroom, then the baraat took over the streets of Downtown Dallas, followed by the wedding and reception both in the Trinity Ballroom. The video shows just how much fun they had at their reception.
3) Hilton Granite Park - Plano
HGP is the third on the Top 11 Dallas Indian Wedding Venues For More Than 500 Guests list. This is a very modern style hotel that opened up in the Fall of 2014. When people are looking for that modern and chic style; look no further, The Hilton at Granite Park is the paradise you have been searching for. This is the only hotel in Plano that has an in-house Indian Chef who can make great Indian food. Here's quick snippet of Kiran and Malik's reception that we were a part of. Fill out the form on this page to get the direct contact at each venue on one page.
4) Renaissance Addison
Previously named Intercontinental Dallas, now Renaissance Addison has been the location to many Indian weddings. Each ballroom here has its own feel and atmosphere. The layout of all the ballrooms have a very unique design. Most of the large receptions take place in Crystal Ballroom on the second floor. Smaller receptions usually opt for the Malachite ballroom which has a theater layout (also great for sangeets). The Garden Court is perfect for wedding ceremonies because its indoors but has a feel of being outdoors. The large glass windows help keep it safe with Texas' unpredictable weather. Check out how great Tilu & Eric's reception was inside the Crystal ballroom at the Renaissance Addison. This fun Malayalam couple wanted us to keep the dance floor full all night. The lights, music and energy all made it possible. Contact us here if you need a DJ.
5) Omni Frisco at The Star
This venue opened in the Summer of 2017 in the heart of Frisco and is located near great food and nightlife. It hovers over the biggest attraction in the North Dallas area; The Star! Omni Frisco is a high rise hotel that offers a great view and an enormous amount of space for a grand wedding weekend. The first Indian wedding took place in March 2018 which we had the privilege of being a part of, but here's a video from Saranya and Nirav's wedding weekend which we also were a part of; Video by Epique Cinema. This completes half the Top 11 Dallas Indian Wedding Venues For More Than 500 Guests list.
6) Hilton Anatole
Their elegant ballrooms have ample room for the cocktail hour area where guests can mingle freely. The ballrooms have great accents and mirrors on the walls for a royal wedding feel. We have Dj'd there many times and the Hilton Anatole stays busy all year round as a result of taking care of their couples. A few years ago we had done baraat's during all four seasons in the same year. The winter baraat is the best one where the grooms' side danced their hearts out to stay warm. Its one of the more classy and popular Dallas Indian Wedding Venues. Here's a snippet from Surya and Meghan's wedding weekend we had the pleasure to be a part of.
7) SLPS
SLPS is a large space where you can invite as many people to your wedding that you want (or your parents want). With high ceilings and a spacious ballroom everyone is surely bound to enjoy the music and dance the night away. SLPS was built in 2014 and majority of the events that happen here are Indian Weddings. Jatin & Tina were the first couple to be married at SLPS. We loved djing their wedding. SLPS is one of two venues that made the list that are not hotels. Here's a video of the most epic wedding reception this venue has seen. We were ecstatic to be a part of Danny and Nikita's wedding weekend, enjoy checking out their reception. If you want a one page sheet with the direct contact information of each of these venue, fill out the sheet on this page.
8) Gaylord Texan
The one stop shop for wedding and tourist attractions. Come into town a little early or stay later, you'll enjoy all the activities this hotel has to offer. The ballroom has a built-in stage which makes you visible to all your guests. This ballroom in particular looks great with two tone uplights which most DJs and Lighting companies don't have (don't worry, we have them). Checkout the highlights from Alvin and Rachel's reception by Memories Films. They are a young Malayali couple that wanted an elegant reception followed by a fun afterparty. Contact us here if you need a DJ.
9) Irving Convention Center
ICC is the eight on the Top 11 Dallas Indian Wedding Venues For More Than 500 Guests list. Host your celebrity style wedding here and enjoy the view from the floor-to-ceiling windows. The ballroom is enormous and can fit all of your dream wedding ideas. Many new restaurants and attractions have opened up near the ICC, making it a tourist attraction in Las Colinas. Greg and Lima wanted great lighting and the perfect music to keep their friends and family on the dance floor all night.
10) Sheraton Dallas Hotel
The Sheraton's Lone Star and Dallas Ballrooms can hold thousands of guests which is perfect for massive weddings. These gigantic ballrooms can also be split in many different ways to best fit your dream wedding. The Chaparral Ballroom is on the 38th floor and is probably one of the best kept secrets. Large windows that overlook Downton Dallas and it doesn't feel like you are in a hotel ballroom. Check out highlights from Neetha & Sanjay's wedding weekend by Chris Watson Films. The Sangeet was held in Chaparral, followed by the Mobile Baraat in the streets of Downton Dallas, and finally the wedding and reception in the Lone Star Ballroom. Fill out the form on this page to get all of the venues contact information on one document.
11) Hyatt Regency Dallas
The Hyatt Regency has 3 large ballrooms that can host your Indian Wedding and is the final venue on the Top 11 Dallas Indian Wedding Venues For More Than 500 Guests list. Check out the Marsalis Hall, Landmark Ballroom, and Reunion Ballroom. Every possibility of your dream wedding in terms of space comes true here. We had the opportunity to be a part of Kirang and Parita's wedding weekend. We don't have the video for this wedding but check out this amazing photo by MnM Photography.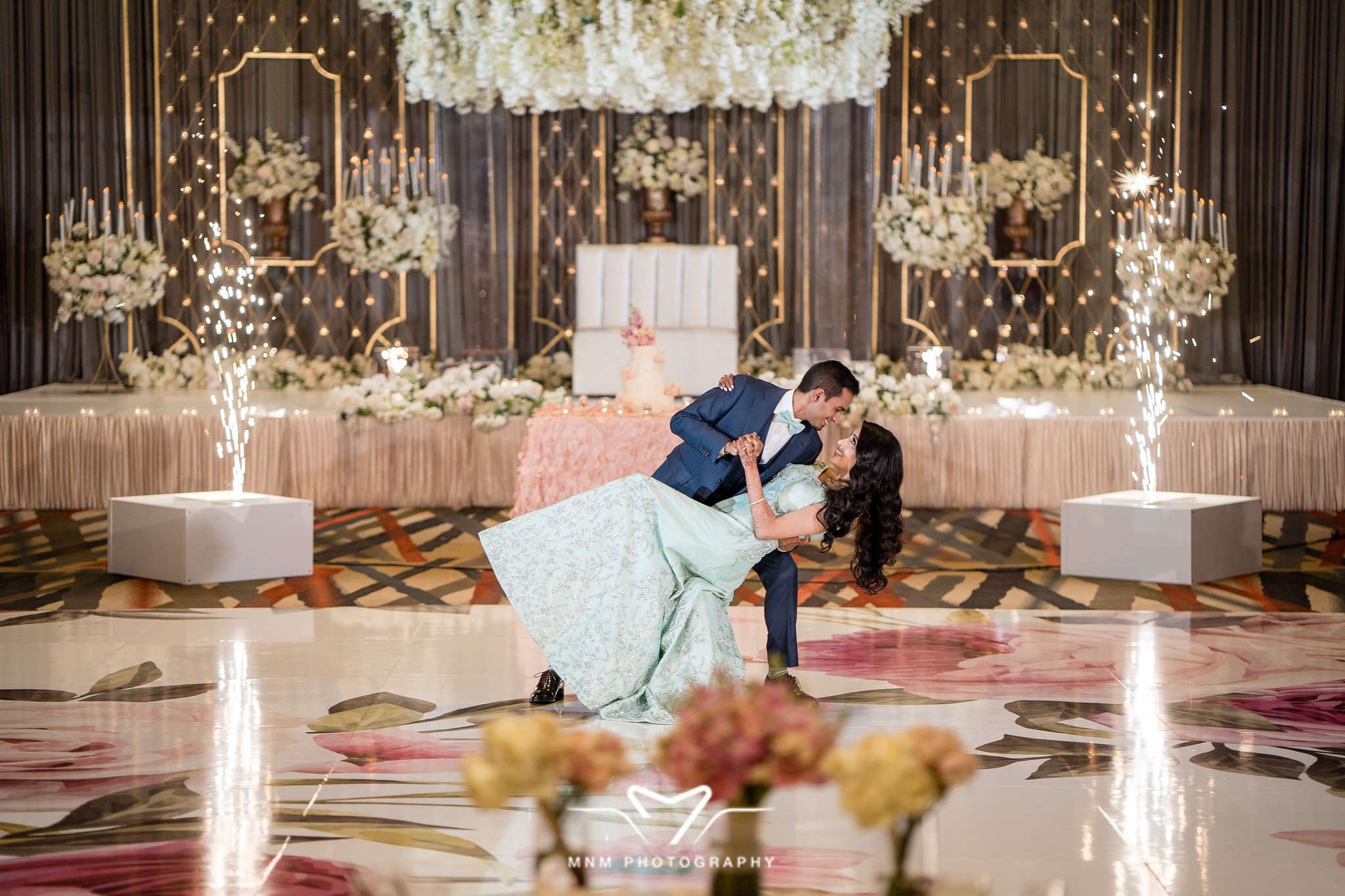 Your wedding is the happiest moment in your life therefore choose a venue you love and the right vendors that will help make your special weekend a time you'll never forget. Over our 25 years of bringing joy to thousands of couples, the DJ Riz Entertainment team performed many times at all of these Popular DFW Indian Wedding Venues and can ensure you will have the time of your lives. Given these points, if you would like to talk about which venue we think is best for you or want more information on our services, contact us here.