Fort Worth has become one of the fastest growing cities in America as a result it accommodates thousands of weddings every year. It has many natural and rustic areas for a great photo-shoot, beautiful wedding ceremonies, and monumental receptions. In addition, Fort Worth is acknowledged for its rich arts, diverse culture, and culinary attractions. We began working on this blog series to help connect couples with their dream venues. Our list of Top 6 Fort Worth Indian Wedding Venues benefits each couple that wants an amazing wedding weekend. When coming up with this list we thought about events that are part of many Indian Weddings (Hindu, Muslim, Christian and Sikh). Pre-wedding celebrations such as the Garba, Sangeet, and Mehndi nights can be held in the smaller ballrooms, there is a clear path for baraats, and the larger ballrooms are spacious enough for the traditional big fat Indian wedding.
1) Worthington Renaissance
A palace style wedding awaits you here at the Worthington Renaissance. Imagine taking over the streets of Downtown Fort Worth for an epic baraat coupled with the Terrace; a great setting for an outdoor wedding with its rooftop feel and views. They have smaller rooms for the sangeet night while the Grand Ballroom is perfect for receptions. This is one of the most unique Fort Worth Indian Wedding Venues. Here are the highlights from Saloni & Mirza's wedding weekend at the Worthington Renaissance. We love mixed couples and involving all of their guests in the celebrations which is what the bride and groom love about us. It is important to not only balance out both cultures but also do everything you and your guests will enjoy.
2) Omni Fort Worth
With modern canned chandeliers and design the ballroom gives off a warm and welcoming feel. From intimate occasions to the celebrity style weddings, Omni Fort Worth can be the perfect place for you. Both the Texas and Fort Worth Ballrooms are huge and can be broken down into small rooms based on your needs. As a matter of fact, this is one of the most modern Fort Worth Indian Wedding Venues. We can transform the ballroom with our new uplights therefore we can match any color theme possible. We had the chance to be a part of Shezad and Zahra's wedding weekend here. As you can see from the picture below, we turned a regular meeting space into an extravagant wedding venue.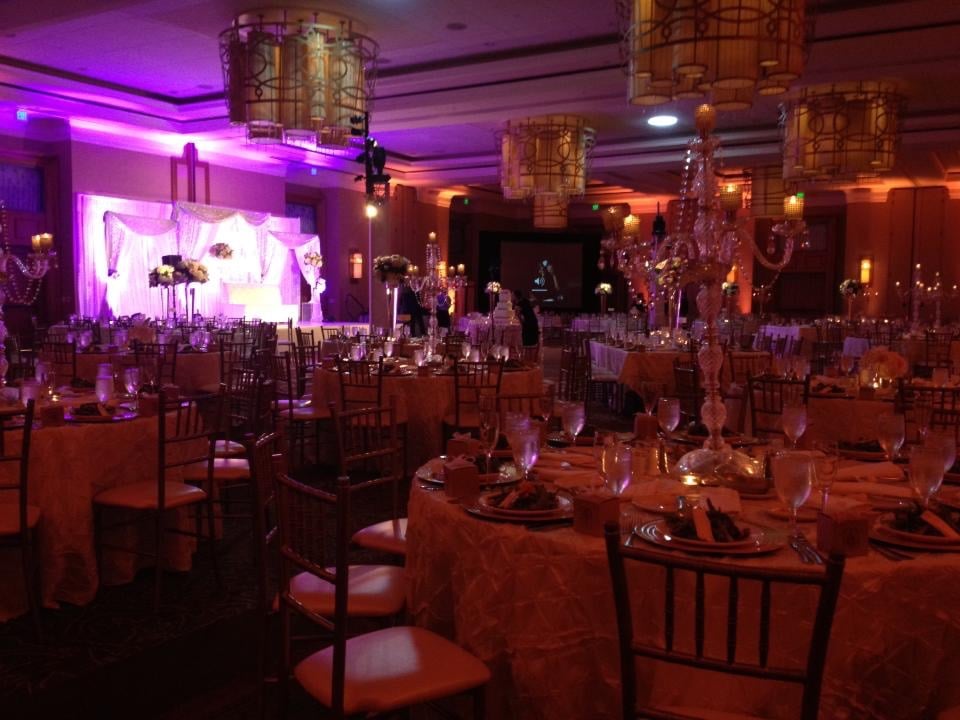 3) Hilton Fort Worth
The Hilton Fort Worth is the most historic Fort Worth Indian Venues. Its classic look and feel keeps it booked most of the year. Bring your wedding to this historic venue to add your moment to its' historical roots. Host your sangeet in Citizen or Texas Ballroom while most Indian weddings and receptions can take place in the Crystal ballroom. The ballrooms are spacious therefore can be broken down to different size rooms to fit your needs. Check out this video to see how the smaller room looks. This is not one of our weddings.
4) Sheraton Fort Worth Downtown
Breakaway from the traditional wedding ceremonies and check out the Water Gardens of the Sheraton Fort Worth. One of the best kept secrets for engagement and wedding day shoots in other words you will love the pictures from this experience in addition to having a unique touch to the wedding. The Magnolia Ballroom is the most used space for weddings and reception because of its size and flexibility. It's the best photo shoot backdrop in our Fort Worth Indian Wedding Venues list. Check out this video so you get a good look at the space. This isn't one of our weddings.
5) Dallas/Fort Worth Marriott Hotel at Champions Circle
Marriott excels at making weddings great. Their planners pay attention to all the details that make your weekend stress free. Outdoor weddings here feel like you are at a golf club or a country club additionally you can do your sangeet, wedding and reception all in the Trinity Ballroom. Makes it easy for guests to know where to go, however you just have to worry about them being on time. It has the longest name amongst the Fort Worth Indian Wedding Venues but everyone knows it as Marriott FW or Marriott Champions Circle. Check out this video to see how the smaller room looks. This is not one of our weddings.
6) Sheraton Arlington Hotel
A ballroom surrounded by calming waters and greenery gives you the sense of destination weddings. Glass all around covers the Plaza on the Hills. The staff there has a lot of experience with Indian Weddings. Plaza on the hill is our favorite place for ceremonies and sangeets while the Champions Ballroom is where the reception takes place. As a matter of fact this is the only hotel we allowed to be in the Fort Worth Indian Wedding Venues list, that is actually in the next city. Arlington is the entertainment capital of Texas. Once called the Sheraton Ballpark when only the Rangers were next door. After the new Cowboys stadium was built, the name changed. Check out the Plaza on the Hill space you can have your wedding weekend in the picture below.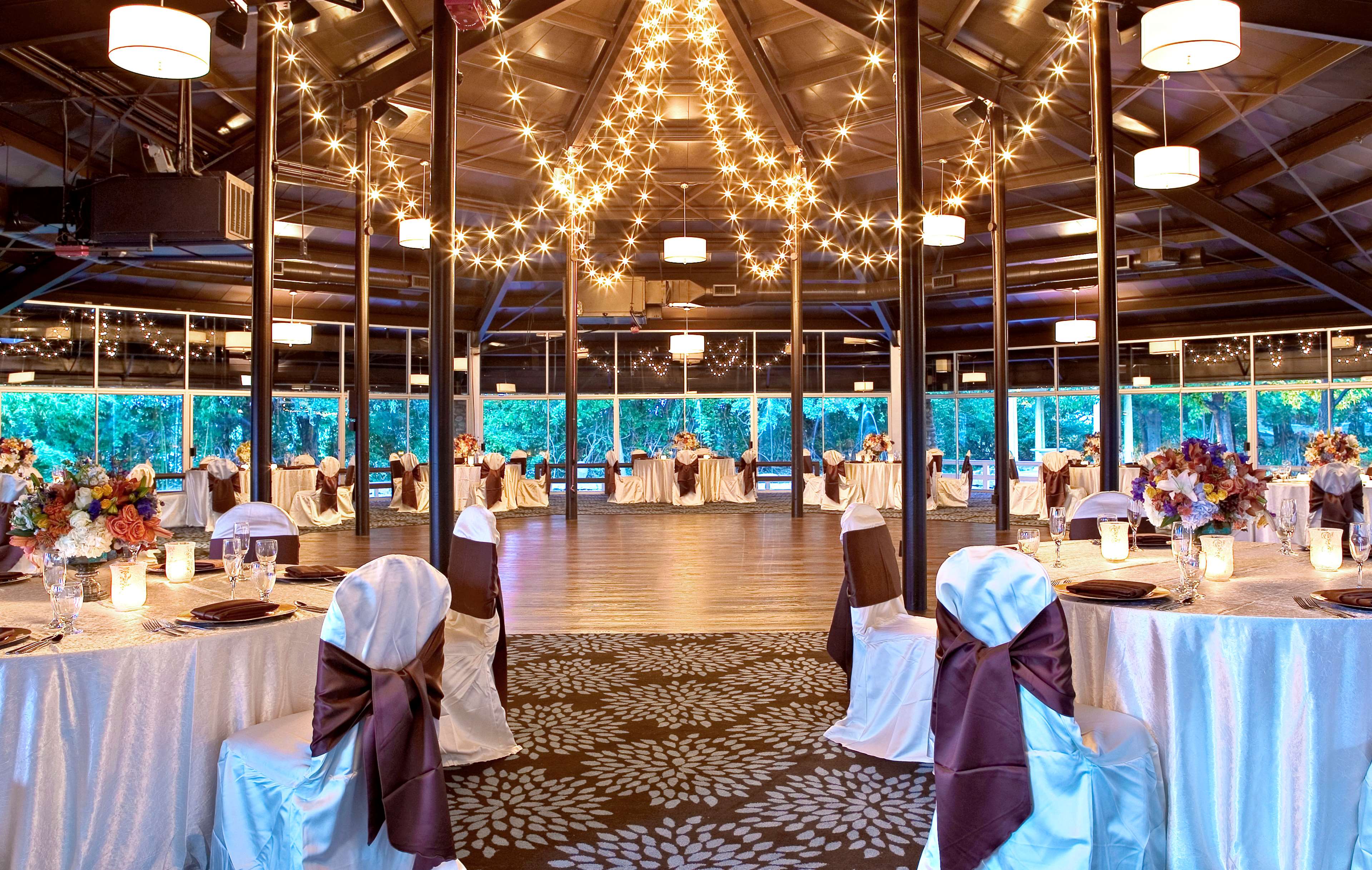 Your wedding is the happiest moment in your life therefore choose a venue you love and the right vendors that will help make your special moment a time you'll never forget. Furthermore over our 23 years of bringing joy to thousands of couples, the DJ Riz Entertainment team performed many times at all of these Fort Worth Indian Wedding Venues and can ensure you will have the time of your lives. Given these points, if you would like to talk about which venue we think is best for you or want more information on our services, contact us here.
Fort worth Indian Wedding Venues