Here are the Top 9 Non-Hotel Venues in the DFW Metroplex we believe will make your Indian wedding special. Couples choose these types of venues because they don't like hotel weddings and want to avoid random hotel guests crashing their wedding. Therefore having this kind of venue makes the wedding a more attractable scene. As a matter of fact, we began working on this blog series to help connect couples with their dream venues. Our list of Top 9 DFW Indian Wedding Venues benefits each couple that wants an amazing wedding weekend. When coming up with this list we thought about each event that is part of many Indian Weddings (Hindu, Muslim, Christian and Sikh). Pre-wedding celebrations such as the Garba, Sangeet, and Mehndi nights can be held in the smaller ballrooms and the larger ballrooms are spacious enough for the traditional Indian wedding. Each of these venues even has a clear outdoor path for all of your guests to enjoy a baraat so they can dance their hearts out!
Top 9 DFW Indian Wedding Venues
1) SLPS
SLPS is an extra large space by all means where you can turn your wedding into a concert. With high ceilings and a spacious ballroom everyone is surely bound to enjoy the music and dance the night away. This venue is the first choice on the Top 9 DFW Indian Wedding Venues because it was built a few years ago and majority of the events that happen here are Indian Weddings. Jatin & Tina were the first couple to be married at SLPS. We loved being their DJ & Lighting company.
2) Irving Convention Center
Host your celebrity style wedding here and enjoy the view from the floor-to-ceiling windows. As a matter of fact, the ballroom is enormous and can fit all of your dream wedding ideas you would love to incorporate. Not to mention, this is the largest structure on the Top 9 DFW Venues list. Jennifer & Bino wanted great lighting and the perfect music to keep their friends and family on the dance floor all night.
3) Union Station
The ballroom of Union Station has amazing natural light and for this reason making the interior decor stand out magnificently. This venue is so spectacular, it also made our list of Top 22 DFW Venues. This is definitely a space you can utilize to make your royal wedding come to life. Nina & Alex are a mixed couple and they really loved the fact that more than half of our DJ Riz Entertainment weddings are mixed weddings. Check out the lights and packed dance floor we had all night.
4) Eldorado Country Club
A warm ambiance creates itself once all of the pieces to the puzzle are complete for your wedding at El Dorado Country Club. The venue, the couple, and the guests all come as one to make an unforgettable night to celebrate a joyous wedding occasion. Our team has an abundance of experience with Indian Weddings. We were not a part of this wedding but you can see the venue well in it.
5) Stonegate Mansion
The Stonegate Mansion is a unique and beautiful Fort Worth event venue. They give you a destination wedding like feel without being really far from home. This space will be ideal for everything from a beautiful ceremony to the fun-filled reception afterward. Check out Amber and Ryan's reception, which we were not a part of.
6) Gleneagles Country Club
At Gleneagles Country Club, the picturesque golf course and fountains make for a stunning backdrop for your wedding. Whether you want an intimate affair or a grand celebration, their experienced staff can bring your vision to life. They will take care of every detail to ensure you have the wedding of your dreams. While we could not be at Blair and Robert's reception, their wedding will make sure you see why this venue is so special. With its elegant ballroom and impeccable service, it's no wonder why this venue is a popular choice for Indian weddings in the DFW metroplex.
7) Dallas Museum of Arts
Whether you're having an indoor or outdoor wedding, DMA surrounds you with art and sculptures you just can't take your eyes off of. Its atmosphere is unbeatable and it's a great space for any event, including the wedding you're planning. Though we weren't part of it, this beautiful wedding at the Dallas Museum of Arts showcases the strengths of this spectacular venue..
8) Nasher Sculpture Center
It's one of the few institutions in the world devoted to the exhibition, study, and preservation of modern sculpture. Additionally, Fahrin & Amirali's dream of a modern and chic wedding weekend came true here. Picture the sangeet night on the lower level, followed by an outdoor meal under the stars for the reception dinner coupled with a fun afterparty overlooking the garden. It was a pleasure being a part of their wedding.
9) Brookhaven Country Club
Let the greenery and the amazing atmosphere take you to another level for your wedding, where every picture can be a great moment. The natural environment at Brookhaven Country Club will make you never want to leave this venue. Sheethal & Joel came to us with their wedding ideas, and we made sure their celebration was a dream come true. Energetic entrances, great lighting, a packed dance floor, and an amazing Vegas style ending with confetti made their wedding unforgettable here.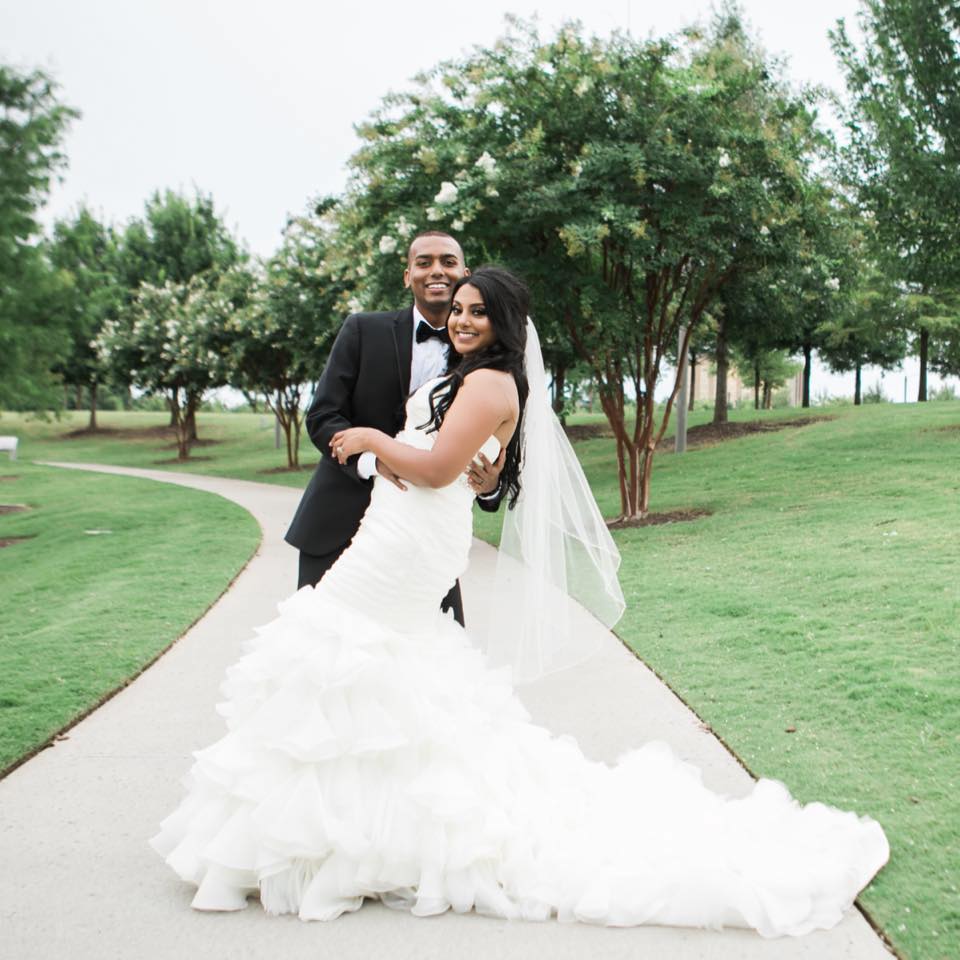 The Top 9 DFW Indian Wedding Venues list is prolific with non-hotel venues unlike any other in the metroplex. Enjoy your special day in style and a weekend unmatched by any other. Your wedding is the happiest moment in your life therefore choose a venue you love and the right vendors that will help make your special moment a time you'll never forget. As a result of our over 23 years of experience bringing joy to thousands of couples, the DJ Riz Entertainment team performs at all of these Top 9 DFW Indian Wedding Venues and can ensure you will have the time of your lives. Given these points, if you would like to talk about which venue we think is best for you or want more information on our services, contact us here.