When making this blog we kept our couples in mind. Half of the weddings we DJ are with both the bride and groom being of South Asian decent. The other half of the weddings we do are mixed or fusion weddings where one person is South Asian and the other is not South Asian (White, Black, Hispanic or Asian).
The main purpose of this blog is to explain to couples what lighting options they have and what is the purpose of each type of light. If you need a timeline for your event, fill out the form on this page and we will send it to you.
Reception Uplights

These are the lights that are put around the room against the walls. They match the color theme of the event and help enhance the decor of the room. Often couples think this is brought in by the decorator, but they are provided by your DJ. These lights can be any color and shade you want. Some companies refer to these lights as LED lights or LED Uplights. At this point everyone is using similar lights. The difference comes from how they are setup and how they are utilized. The right way to setup a room is when it is evenly distributed throughout the room. This is meant to be an accent light, light turns everyone into Avatars in their pictures. We are big on utilization of lights. We want our couples to get the most out of each light. All of our lights are controlled by a dedicated lighting technician, you will also hear of this process called DMX'd (not the rapper). We want to make sure the couple and their guests love the way we transform the room and have the flexibility of easily changing the lights if they don't absolutely love it. Check out the video so you can see many of the lights we are talking about in this blog.
Don't forget to fill out the form on this page to get your free copy of our timeline. The intent is to help as many couples as we can with our advice and of course work closely with the couples that book us. If you want to speak with us about being a part of your wedding, contact us here.
Reception Spot Lights
Most DJs refer to these lights as moving heads. They use it as random dance lights. Since we have a dedicated lighting technician there, we can utilize it much better than anyone else. These dynamic lights are used throughout the reception. We have it excite the guests as they are walking into the room, follow in all of the entrances, and highlight all the main parts of the program (first dance, cake cutting, speeches, performances, etc). This way, everyone knows where to look and the pictures and videos come out amazing.
Another aspect of the room lighting is making sure all the key vendors have the correct amount of light. The decor has to look great which usually means dimming the house lights, the venue needs to move around so they want the lights to be on, the photographer wants the pictures to have a certain feel which usually means they want the lights to be low, and the videographer wants to have focus lights on what happening. We help facilitate this process so everyone is happy and can do their job to make the couple happy. In the previous video, you see one of our great couples giving a speech from 0:05-0:07 seconds. We are utilizing these lights in a way so everyone knows where to look, the couple is visible and the brides outfit is beautifully highlighted.
Once the dance floor is opened we use these lights to make everyone want to dance. Instead of it being random movements that you may have seen at other weddings, ours is complementary to the music and keeps people involved.
Reception Monogram
Monograms are the couples names or initials with some sort of design on it. Some DJs refer to this as a custom monogram. Since names are different every time, we dropped the term custom since thats implied. We completely changed the game for Indian Wedding Receptions when we introduced Animated Monograms. Instead of having a static picture on the wall, we made it animated to seem like someone is writing in the names of the couples on the wall. Guests like this so much, that we see them snapping videos of it at every wedding. We also introduced using the wedding hashtag as a monogram.
Although some DJs have recently started doing this, there is a huge difference in quality and design. Make sure you know what you are getting. Check out some of our Monograms here:
Reception Stage Wash
These are static lights placed on the back wall, across from the stage, to keep the stage and everyone on the stage visible. Most DJs don't have these lights. The ones that do will probably blind you with the brightness. Our lights can be adjusted so you are well lit but can still see after your wedding. Take a look at how well the cake is lit. If the couple didn't get this service from us the cake would have be in the dark and not visible to the guests.
Don't forget to fill out the form on this page to get your free copy of our timeline to help you plan your Indian Wedding Reception.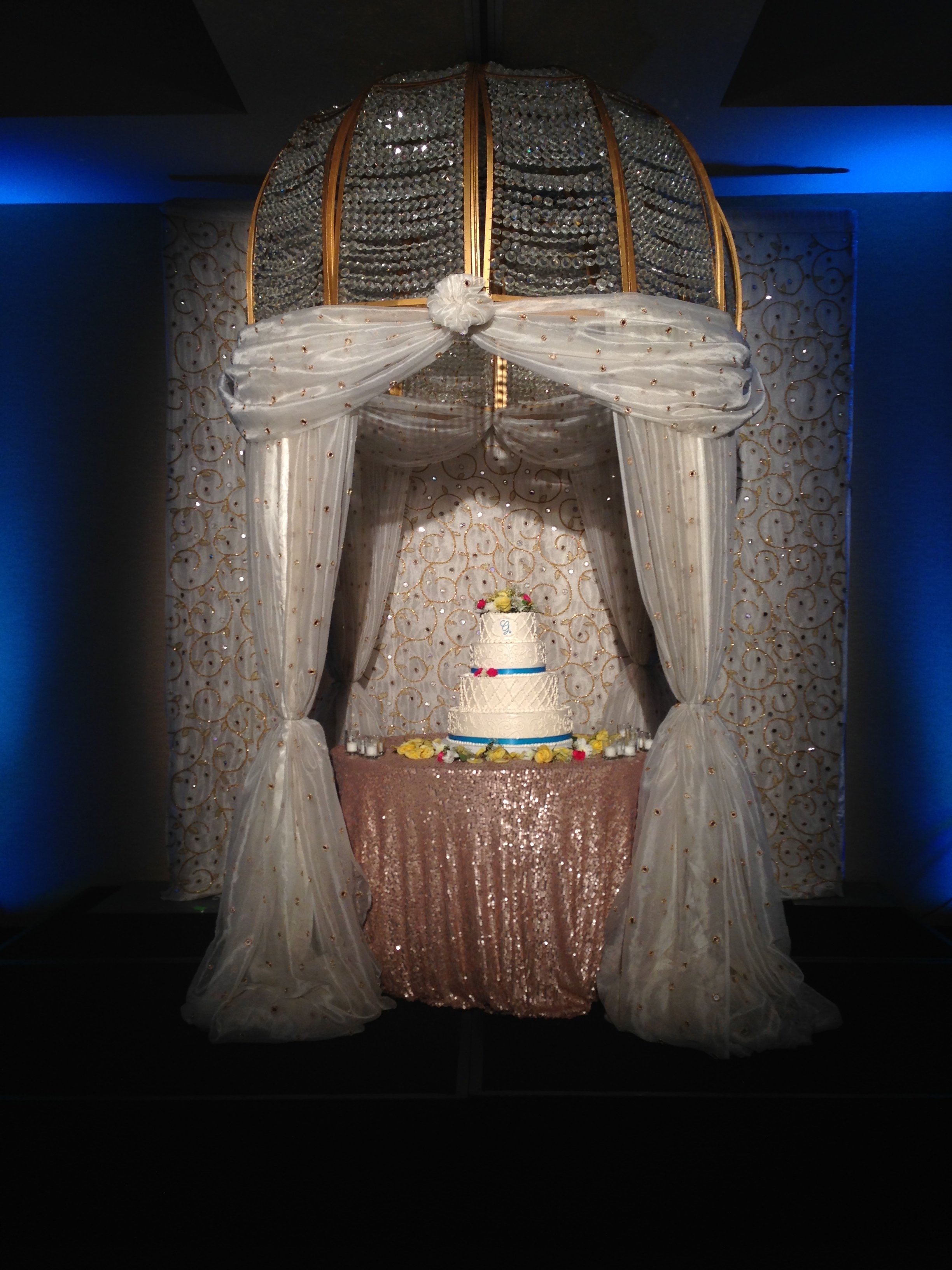 Reception Gobos
These are similar to monograms but are used to project patterns on the wall without any text on it. You can have this static on the wall like most people do or you have have them move around the room or even in place. Lots of cool possibilities to make your wedding unique. If you look at the first video we posted you will see an example of the pattern moving on the wall in the first few seconds.
Reception Pin Spots
We only recommend this to our couples that are doing elaborate fresh floral centerpieces. Imagine a flashlight above each of your main tables around the dance floor. It will make your floral design pop. With this concept, less is more. Instead of putting these lights on every table in the ballroom, you want to highlight your main tables where close family and friends are sitting.
Reception Lasers
Lasers are great for big dance floors with a lot of people and where the DJ is setup on the main stage. There are multicolor beams of lights that stay above the heads of everyone on the dance floor. Every once in a while we get a couple that wants to turn their reception dance floor into a club, concert, or festival. We can help do all of that. We only share these behind the scenes pictures and videos with our couples. If you want to speak with us about being a part of your wedding, contact us here.
Here is a short video of a few of the weddings we were a part of last year:
If you liked this blog, check out our blogs focused on Venues, Vendors, and Music.