Over the past 25 years, we have worked with thousands of amazing couples across the world. Recently we have seen many couples spend a lot of time, money and energy trying to figure out what to do. Today's fantastic decor companies strive to help couples ranging from ones that know exactly what they want to others that need a lot guidance. Check out some of those companies in our blog here. Across the world we have seen Indian wedding receptions online and in person that might've really benefited from this blog. Although we can't help them, we would like to help you in your planning process.
When making this blog we kept our couples in mind. Half of the Indian weddings we DJ are with both the bride and groom being of South Asian descent (Hindu, Christian or Muslim). The other half of the weddings we do are mixed or fusion weddings where one person is from South Asian descent and the other is not (White, Black, Hispanic or Asian).
The reception is one of the most fun parts of the entire weekend. Couples look forward to this event the most. They finally get to let loose and party with friends and family. The dance floor needs to reflect your taste, budget, and be practical.
5 Tips for Indian Wedding Reception Dance Floor Notes:
We have seen how couples, their families and guests react to the floors when they walk in and during dancing

Decorators know how to make the room look beautiful when empty but what about when people are there

This should help you figure out what you want and need.
5 Tips for Indian Wedding Reception Dance Floor are ranked in terms of importance
1) Size: It does matter (not that kind of blog)
Most people will tell you bigger is better but that's not true (smh). Often couples base the size of the dance floor on how many guests will be attending. As much as you would like to think that all 500 people will be on the dance floor all night, its probably not going to happen. Think about how many of your guests will be there in the end to party with you. That should dictate the size of the dance floor. Take a look at the table below to give you an idea of what size the dance floor should be. As you can see with Mostly Dancers, as the number of guests rise, so does the size of the dance floor. If your dance floor is too big, it will look empty in your pictures and video. If your dance floor is too small, it will get too packed. You have to find the right size. If you are debating between two sizes, always go with the smaller one. In most cases, you will have less people dancing than you think and people are more likely to join packed dance floors verses big/empty dance floors. Decorators want the dance floor to look good and proportionate to the stage/room. Find a balance between making your empty room photos look great and having the right size dance floor for your guests to have a great night.

2) Shape: I'm in love with the shape of you 🎶
Lets go over the four most common options: square, diamond (really just a square rotated), circle and rectangle. The square is the most common and practical. We first saw the diamond dance floor 8-10 years ago. It was very popular for a period of time, but we haven't seen it much lately. Circle dance floor has been around for a few years and recently we have seen the rectangle floor being used.

The square floor makes sense because its placed almost touching the stage. It gives you the most space to setup the rest of the ballroom. The diamond floor was popular for two main reasons. It was different and looked good in empty room photos. Since then, enough people have done it that its not new anymore and couples generally care more about the photos they are in verses blowing up a big picture of their empty ballroom and hanging it up somewhere in their new home. The circle floor is different but most venues don't have what they need to make it for you. The rectangle floors look like a big runway ending at your stage. Now, lets talk about utilization of these options.

The blue color represents the amounts of the floor that will get utilized for dancing. Since decorators aren't physically at events to see how dance floors are utilized, this often gets overlooked in the planning process. If you need a planner for your wedding, check out our blog. As you can see the best options for utilization are the square and circle. Since all venues can provide you with a square dance floor and most can't provide circle, the clear winner is the square. The diamond dance floor's 4 corners for some reason don't get used as much. Everyone wants to stay in the middle, which makes the pictures and video look weird or empty. The rectangle dance floor is a waste of space for many reasons. The sweetheart table gets moved further away from the stage, performers cant utilize the dance floor properly, people giving speeches seem lost, and during dancing everyone moves forward leaving the back of the dance floor empty. Need help with Decor advice and tips? Check out our 8 Tips for Indian Wedding Decor.
3) 1-2 Colored Dance Floors
The standard dance floors that venues carry are brown. They aren't the best thing to look at, but they get the job done. Decorators realized this can be a service they can add-on that will help make the room look better and tie in the primary themed colors. Initially everyone wanted white since it would be drastically different and it went with all themes. The decorators took the hotel dance floors and began wrapping them with sheets of white vinyl. Think of if like covering the the dance floor with a bunch of white stickers. It looked great until people had seen it enough times and wanted something different. This lead to having the couples names and additional designs being put on the dance floor with black vinyl. Next came the use of different colors for the main dance floors (purple, blue, etc) with white designs and names. Usually this runs between $1,000 to $2,000. If you get to the end of the planning process and have the funds, do this. Another way to put this together was by using actual colored pieces of the floor. Check out this gold and black dance floor from a wedding we did last year. Fill out the form on this page and we will send you an email with the direct contacts for decorators.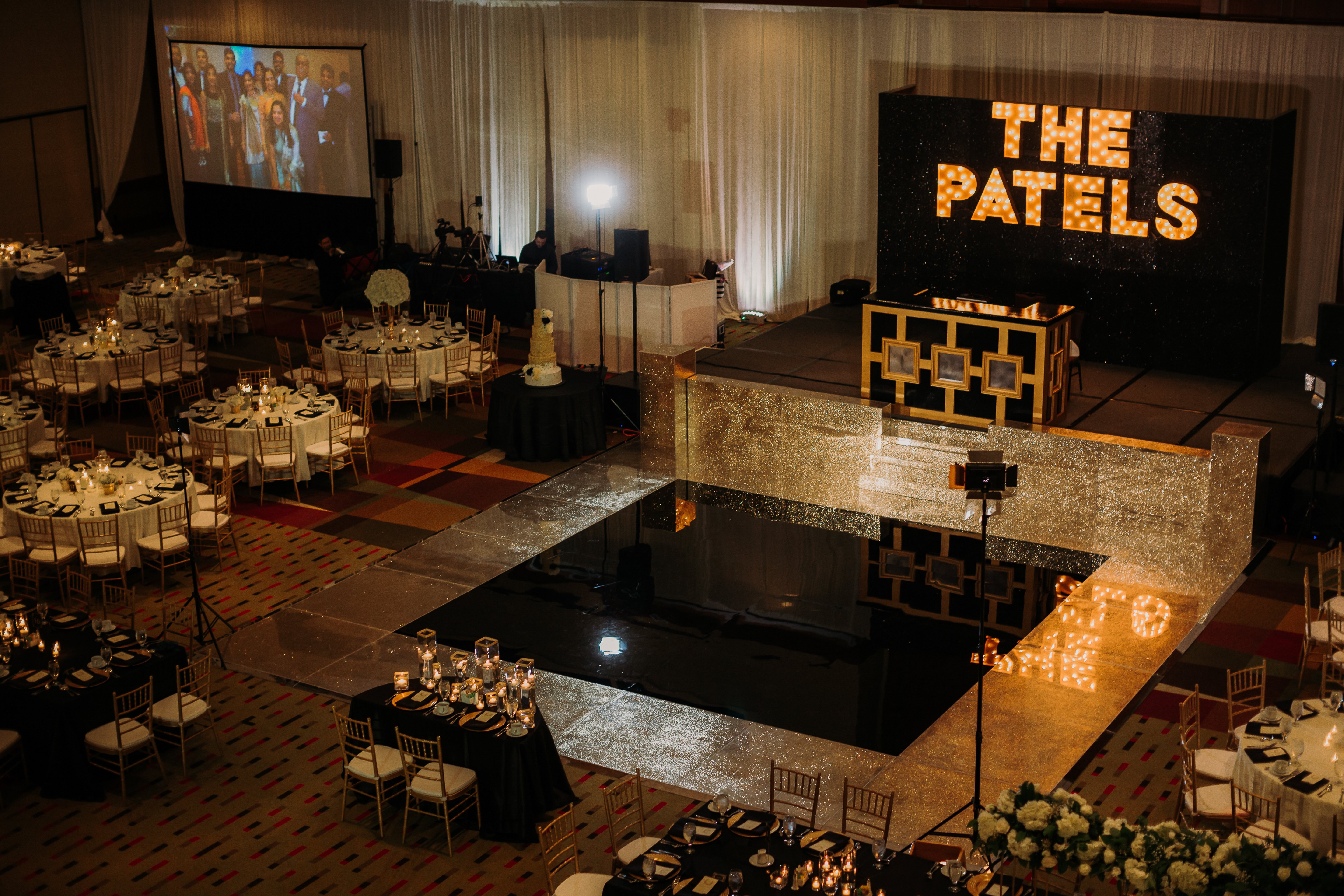 Photo credit: William Bichara
4) Full Colored Dance Floors
This is our favorite new dance floor idea. The entire dance floor is wrapped with lots of designs and colors to match the rest of the ballroom. It looks great in pictures and videos but seeing peoples' faces light up when they see it is awesome. This lead to one of the best dance floors which was a multi-colored designed floor to match the theme exactly. This is the best option in-terms of being unique and people appreciating the look. This is something you need to plan and set aside money for. We have seen this range from $2,500 to $5,000. The best source for getting these floors are from your decorator. If they don't offer it then getting it from a third party flooring company is the next best option. Don't trust anyone that does it on the side or not often. We have seen couples go that route to save money, only to be very disappointed with the end results because of air bubbles, and lack of attention to detail. If you need a DJ for your wedding that knows great music and will take care of you, contact us here.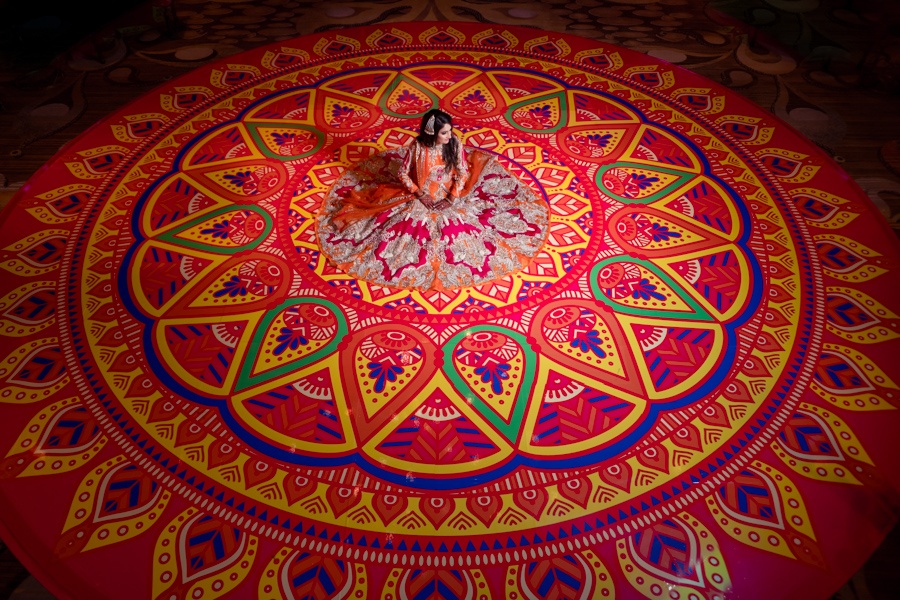 Photo credit: MnM Photo
5) Electronic Dance Floors (LED & Starlight)
The Starlight dance floors came out shortly after the white dance floor became popular. After people stopped wanting that look, the need for the starlight dance floors almost went completely away. LED dance floors became popular amongst couples that want to turn their receptions into clubs. They are fun, but don't look great when they are turned off and don't come out great in pictures and video when they are on. Once technology gets better, this might be a great option. If a DJ does their job right, people wont see your dance floor most of the night. Spending $3,000 to $6,000 on a dance floor that people wont see while dancing and doesn't look good in pictures and videos may not be worth it.
If you liked the 5 Tips for an Indian Wedding Dance Floor Decor blog, check out our blogs focused on Venues, Vendors, and Music.