Decor is an extremely important part of Indian Weddings. It's often what makes the wedding look larger than life. Over the past 25 years, we have worked with thousands of amazing couples across the world. With every passing year, each vendor category grew in talent, experience and innovation. Todays amazing decor companies strive to help couples ranging from ones that know exactly what they want to others that need a lot of guidance. Check out some of those companies in our blog here. Over the past few years, across the world we have seen Indian weddings receptions online and in person that might've really benefited from this blog. Although we can't help them, we would like to help you in your planning process.
When making this blog we kept our couples in mind. Half of the Indian weddings we DJ are with both the bride and groom being of South Asian descent (Hindu, Christian or Muslim). The other half of the weddings we do are mixed or fusion weddings where one person is from South Asian descent and the other is not (White, Black, Hispanic or Asian).
The reception is one of the most fun parts of the entire weekend. Couples look forward to this event the most. They finally get to let loose and party with friends and family. The Decor needs to be beautiful, reflect your taste and be practical. You need to communicate the style and vibe you want to your decorator. The decorator has to take those idea and make it look beautiful. We can help with making things more practical.
8 Tips for Indian Wedding Reception Decor Notes:
We have heard couples, their families and guests bring up these issues.

Some vendors will say yes to everything and then aren't able to deliver on-time or the same way you had hoped.

Decorators can also be too aggressive with doing something bigger or more than what you want to do.
8 Tips for Indian Wedding Reception Decor are ranked chronologically
1) Setup Times
Most couples don't know that you can request setup and breakdown time from venues before booking them. If you know that decor will be a major part of your wedding, ask your venue to give you the ballroom one day earlier. Don't accept a verbal confirmation. Make sure it's in your contract since there is a high turnover in the hospitality industry. The person you are speaking with today, may not be there for your wedding. Verbal promises won't help you if they forget or change jobs. Even if they put that if the room isn't booked for an event, that you can use it for free, take it in writing. Fill out the form on this page and we will send you an email with the direct contacts for decorators.
2) Stay in one room
This, for the most part, is in your control. Rather than going from room to room between events, or worse from venue to venue, keep all your events in the same room. There are many reasons as to why this is beneficial. It's easy for your guests to find, less change and driving around for your decor team, and you can transform the room with lighting(continued in Tip 7). If you want your events to flow on-time, this is key. If you need a planner for your wedding, check out our blog. Fill out the form on this page and we will send you an email with the direct contacts for decorators.
3) The Stage
The stage ends up being a big headache for everyone. When receptions are late, its usually because of the stage. Any change in size or placement causes a domino effect of delays. It becomes a game of the chicken or the egg with the decorator and venues. The worst is when the orientation of the room has to change. Most weddings will run late if the placement of the stage is moving from one place to another. Find the right size of the stage that makes sense for all of your events, regardless if it's one day or two, and leave it. This will keep the venue staff out of the picture. If you need a venue for your wedding, check out our blog.
4) The Wedding Flip
The time between the ceremony ending and the room being set up for the reception is referred to as The Wedding Flip. There are many things you can do to make sure the decorator has ample time to setup the ballroom. Make sure you are ready to enter before you are called, keep the ceremony simple and short, don't spend too much time explaining whats going on, start sending people to lunch as soon as its ready, have a list of people you want to take pictures with, quickly get through the group pictures. There are so many things you can do here, that we will probably make another blog about later. If you need a DJ for your wedding that knows great music and will take care of you, contact us here.
5) Centerpieces height
This is the one we hear most about from family members and guests. Big centerpieces look beautiful in empty room photos and when your guests first see them. After that, it becomes pretty impractical. They block the view of the stage, dance floor and entrances for many of your guests. This means they can't see whats going on or what you want them to pay attention to during your program. This means they will stop paying attention and talking during the time you want them to be quite. In bigger ballrooms it becomes an even greater problem. For those situations we recommend getting projectors and screens from your DJ and live feed services from your videographers. If you need a venue for your wedding, check out our blog.
6) Decor around sweetheart table
Sweetheart tables are usually near the dance floor across from the main stage. Some decorators will put a backdrop or arches behind this table. Similar to the last point, it looks good in an empty room or just with the bride and groom in it. The drawback in this option is that you are blocked off from many of your guests and if you have specialty lighting these structures may cast big shadows on your face and outfits. Fill out the form on this page and we will send you an email with the direct contacts for decorators.
7) Lighting
When we first started Djing weddings 25 years ago, the decorators provided all of the room lighting. Over the last 10 years most of the lights have all transitioned to the DJ. This is done for many different reasons. This gives more time for the decor team to focus on decor. The DJ will work with the decor team to figure out what color of uplights look the best in the room. They will also bring out a separate lighting person that will highlight all the key moments such as entrances, first dance, cake cutting, speeches, performances, etc. This is much better than the static uplight options the decorators used to do. Most decorators will take care of stage uplights and we normally take care of the rest. Check out this video to see some of the benefits of having us take care of the lighting. If you need a DJ for your wedding that knows great music and will take care of you, contact us here.
8) Power
Power or electricity at weddings can become an issue if its not properly planned. Most of the consumptions comes from DJs and decorators. Since the power in ballrooms are limited, most often the same few outlets are shared between all vendors, including photo and video teams. You can have the venue provide a power drop which gives your vendors additional dedicated power to use in the ballroom. This will avoid losing electricity in the middle of your reception. We normally recommend between 60-100 amps to cover most events. Try to get it included before booking your venue so you don't have to pay for it later. Fill out the form on this page and we will send you an email with the direct contacts for decorators.
A wedding is the happiest moment in your life and you should choose vendors that you will love working with. Over our 25 years of bringing joy to thousands of couples, the DJ Riz Entertainment team has helped create memories for a lifetime. If you or a friend needs an Indian wedding DJ that will take the time to understand what you need and help make your wedding weekend perfect, contact us here for more information on our services.
If you liked the 8 Tips for an Indian Wedding Reception Decor blog, check out our blogs focused on Venues, Vendors, and Music.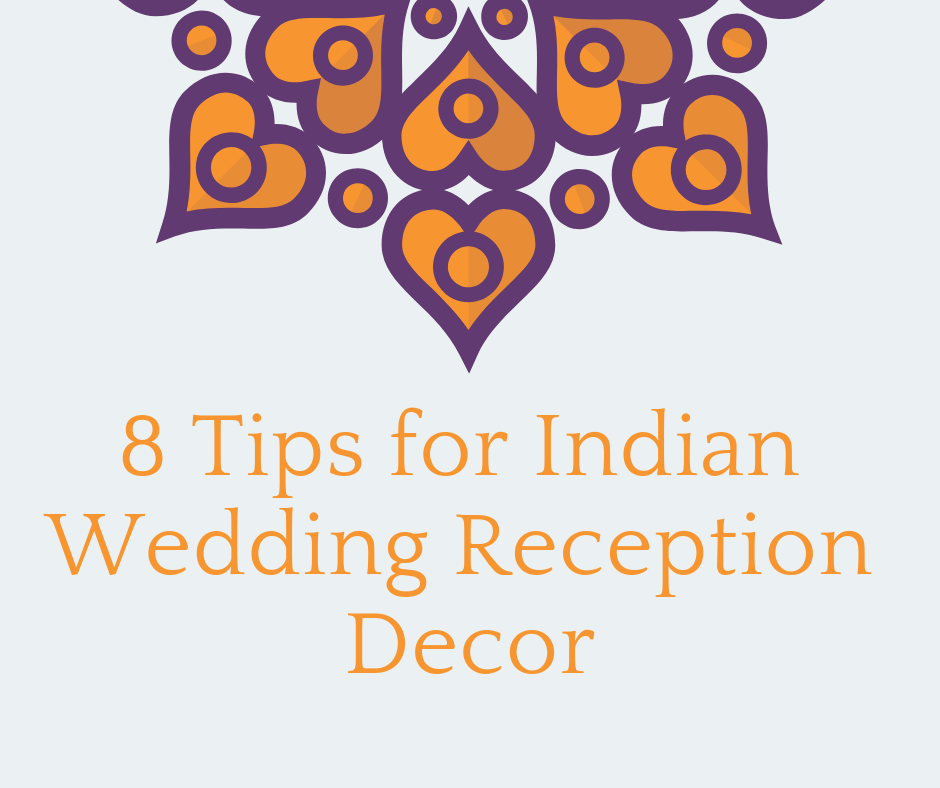 Photo credit: DJ Riz Entertainment