When making this blog we kept our couples in mind. Half of the weddings we DJ are with both the bride and groom being of South Asian decent. The other half of the weddings we do are mixed or fusion weddings where one person is South Asian and the other is not South Asian (White, Black, Hispanic or Asian).
The main purpose of this blog is to share with couples the best ways to utilize projectors and screens at Indian Weddings. If you need a help with making a timeline for your Indian Wedding, fill out the form on this page and we will send you our template.
Live Feed

This is one of the best uses of the projector and screens. Live Feed is where your videographer plugs into the DJs projectors to display what is happening at the event. If you have a lot of people at your event, its hard to see what is happening. If they can't see whats happening they may choose to not pay attention or worse, talk and bother people around them. To help keep everyone engaged and focused on the event, live feed is a great option. You can use this during your ceremony and your reception.
The intent of this blog is to help as many couples as we can with our advice and of course work closely with the couples that book us with making sure everything is perfect for them on their big day. Our projectors and screens are controlled by trained video technicians. They make sure, no matter what you want on the screens, it looks good and its hassle free for you. If you want to speak with us about being a part of your wedding, contact us here.
Check out this picture from our epic first dance collection. Dimple & Jiten are enjoying their first dance and everyone can see them clearly with screens on both sides of their stage (the screen on the right side is out of this pictures frame). This was shot by the talented William Bichara . Don't forget to fill out the form on this page to get your free copy of our timeline template. Check out some suggestions for your first dance song.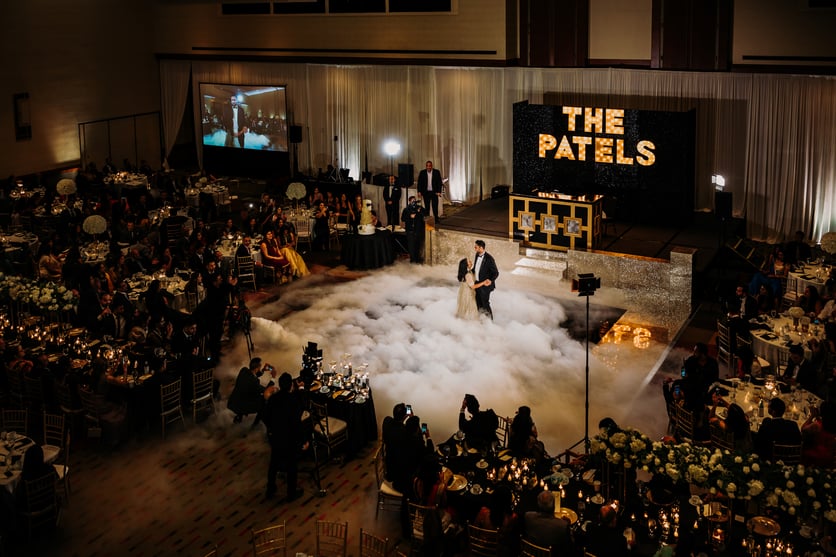 Same day Edit
A same day edit is put together by your videographer. They take all the key highlights leading up to the reception and play this video at the reception. Its so great to relive the moments that just recently passed. After the reception is over, the videographer will take this edit and add on the key moments from the reception and share the final version with you.
Check out the wedding Highlight video from Deep & Shaily's wedding that started off as a same day edit. This was the first wedding held at the brand new Westin Irving Convention Center at Las Colinas. This video was created by Epique Cinema. Check out our blog if you need a videographer.
Slide Show
A slideshow is a series of pictures put on the screens that appear one after another. Couples will put music on it if it is played during the reception program. Most of the time its played on loop during dinner and the DJ plays music based on the vibe the couple wants. There are three types of slideshows that couples show at Indian wedding receptions. The first type is pictures from the bride and groom growing up individually and becoming a couple. The second type is pictures from the engagement shoot and other great shots together. The third type is from the wedding weekend. Similar to the same day edit, but using pictures instead of video. Check out our blog if you are looking for a Indian wedding photographer. This great picture was captured of our couple Rohan & Rishika by VEK Photos.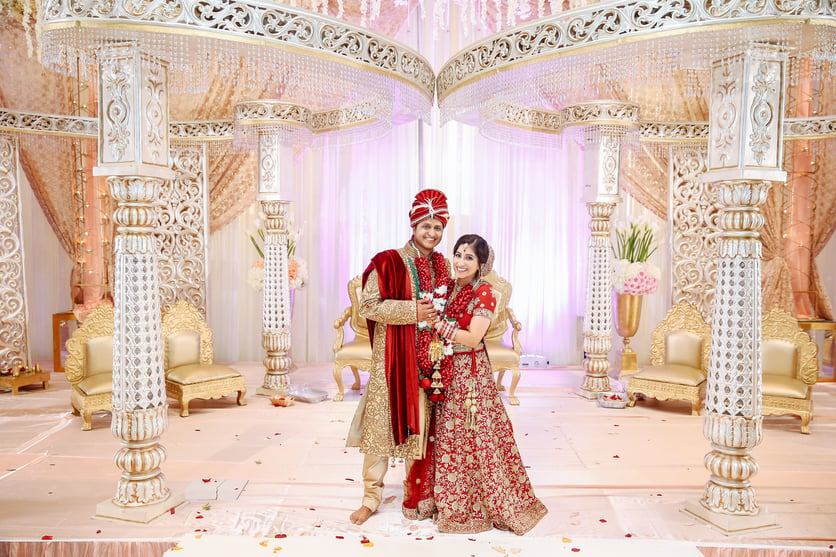 Order for taking pictures with the couple
After the wedding its chaos trying to get people to take pictures. They either don't have their group numbers, don't know who is included in their group, or want to run and eat lunch. You can put up the names of the people in each group on multiple slides in powerpoint. Check out our blog in case you need a vidai song.
Don't forget to fill out the form on this page to get your free copy of our timeline to help you plan your Indian Wedding Reception.
Seating Charts
As people walk into the ballroom they might have forgotten their place cards or not know which side is the bride/grooms side or which side is odd/even. You can use the screens to guide them. Put up the names of each table in powerpoint and rotate until the program begins. Or at least let them know which side of the ballroom to go on. Check out some suggestions on entrance songs for couples.
During Speeches and Dances
This is a great way to utilize the projectors and screens at an Indian wedding if you don't have live feed. People giving speeches can create power points that relate to what they are talking about. Text and pictures work out great for this. Or during your first dance, you can put a quote, or a different picture of the couple. During the father/daughter or mother/son you can put pictures of the parent with their child. We can help you find lots of ways to make this personal and impactful. If you are looking for a DJ that will take care of you, contact us here.
Static Picture
When everyone is walking into the ballroom, or if you don't have live feed, or during dinner if you don't have a slideshow this is the best option. In powerpoint you can insert your best picture together and put a border around it that has your reception theme color. Next you can add you wedding date, names and wedding hashtag. Pick two out of the three for the best results but you can absolutely put all 3 if you prefer.
A wedding is the happiest moment in your life and you should choose the right ways to utilize the screens that make the most sense for you. Over our 25 years of bringing joy to thousands of couples, the DJ Riz Entertainment team has done all of these multiple times. Given these points, if you would like to talk to us about being a part of your wedding, contact us here.
If you liked this blog, check out our blogs focused on Venues, Vendors, and Music.