Here is a guide that will help couples plan their intimate Indian weddings. Some people call them mini-weddings, micro-weddings or tiny weddings, but they all mean the same thing. A fun wedding with just your favorite people and the love of your life right by your side. This is usually 100 or less people.
You were probably planning a Big Fat Indian Wedding pre-Covid. Suddenly, the world changed and your plans were shattered. We are all navigating through the new normal. From March to May 2020, all of the weddings we had booked were postponed. Some couples moved their date to Fall 2020 and others opted for 2021. Either way, we will make sure all of the weddings are entertaining and we will help create memories for all of our couples.

We've have been djing Indian weddings for over twenty-five years. Prior to this pandemic, the largest wedding we had done was with 1,500 people and the smallest was 25 people. Before intimate weddings became popular, we already had lots of experience with them. Most djs won't know how to handle these types of unique and exlusive weddings. We love making sure everyone has a great time, regardless of the guest count. Let us know if need an Intimate Indian Wedding DJ. Now that Covid is here, with no end in sight, the intimate wedding desire has quickly gained popularity. For many couples, this is the best option.
The main purpose of this blog is help make your wedding exciting even though you have fewer people than originally planned. If you are looking for new music lists either on Spotify, Apple Music, Youtube or want some nonstop mixes, fill out the form on this page.
Follow us on Instagram for new music and wedding tips.
1) The Wedding Experience
Formal or Casual: let guests know how you want them to dress

Traditions: Keep the parts you love and remove the things you don't want to do

Personal Touch: food trucks, specialty drinks, signs, anything you want

Missed Table: you can put a picture of loved ones that aren't able to attend the wedding

It is more critical now than ever for a couples to have a high quality wedding DJ and engaging MC, not just anyone to play some music and announce dinner

2) Room layout
Tables: 6 feet a part and have a maximum of 6 chairs at 60 inch round tables and 8 chairs at 72 inch round tables. Put all household people/family at the same table

Entrance Path: keep a clear opening to the dance floor

Dance floor: get at least a 20 x 20. Check out our dance floor blog to find out more.

Centerpieces: small and short. Your table may be smaller than normal and you need the space. The tables will be more spread out, so you need the visibility from other tables

Try to keep all aspects of the event in the same room
3) The Program
Time frame: Keep it short: aim for 30 mins or less

Entrances: Consider only having the couple enter

Performances: Keep performances to 2 mins or less, limit the number of performances

Keep it moving: no awkward pauses or transitions. Make sure the MC knows how to do this. Check out our guide on MCing weddings.
Limit speeches: the number of them and the length. Check out our speech guide.
Games to get the guests involved. Contact us if you need a DJ that will get the guests involved.
4) Shifting Budget
You can save money or splurge on whatever it is you value

Less decor but more luxurious decor

Get an amazing dessert table

Speciality wedding favors for everyone that attended

Top-Shelf Bar

Grand Dinner

Most couples are opting for an amazing first dance with special effects. Check out this video:
5) Food & Drinks
Most couples are offering a buffet. If you are one of them, make sure guests do not serve themselves. Have someone from the venue or the caterer wear a mask and gloves while serving each guest.

Do not preset water at each table. Instead have water bottles available.

Setup 2 bars when possible to split the crowd. Bar staff should serve all drinks while wearing masks and gloves.

Flatware: Most couples are using what the venue has but you can also get formal disposable cups, plates and cutlery.
6) Attendance Workarounds
Virtual - Setup a private link for people to see all parts of your wedding. Check out our blog on couples keeping their dates for more advice on virtual options.

Split weddings - Have a different group of people for all of your events: Pre-wedding ceremonies, wedding ceremony, and reception. Keep the core group of the most important people at all of your events.

Afterparty - some couples are doing a separate afterparty with just their closest friends and younger family members.
7) Photos
Spend more time taking individual photos of just the bride and/or groom in all outfits

Come up with unique photos of the couple together

Immediate family photos is a must

Bridal party photos each day
8) Safety protocols
All vendors should be wearing masks

All venue staff should be wearing masks

All servers and bartenders should wear masks and gloves

Ask all guests to wear masks

Have extra masks for everyone

Place sanitizer at each table
9) Stress Level
Plan your wedding the way you want it to be

Once you have it planned, don't stress about minor things changing

Hire a wedding planner

Smile and be happy, its contagious (is it too soon to joke about that?)
10) 1st Anniversary Reception
This is a great idea and perfect time to party and celebrate

This will become a huge party for the couples that want a larger celebration later

Try and use the same vendors you originally booked

Set a date and start planning once the wedding is done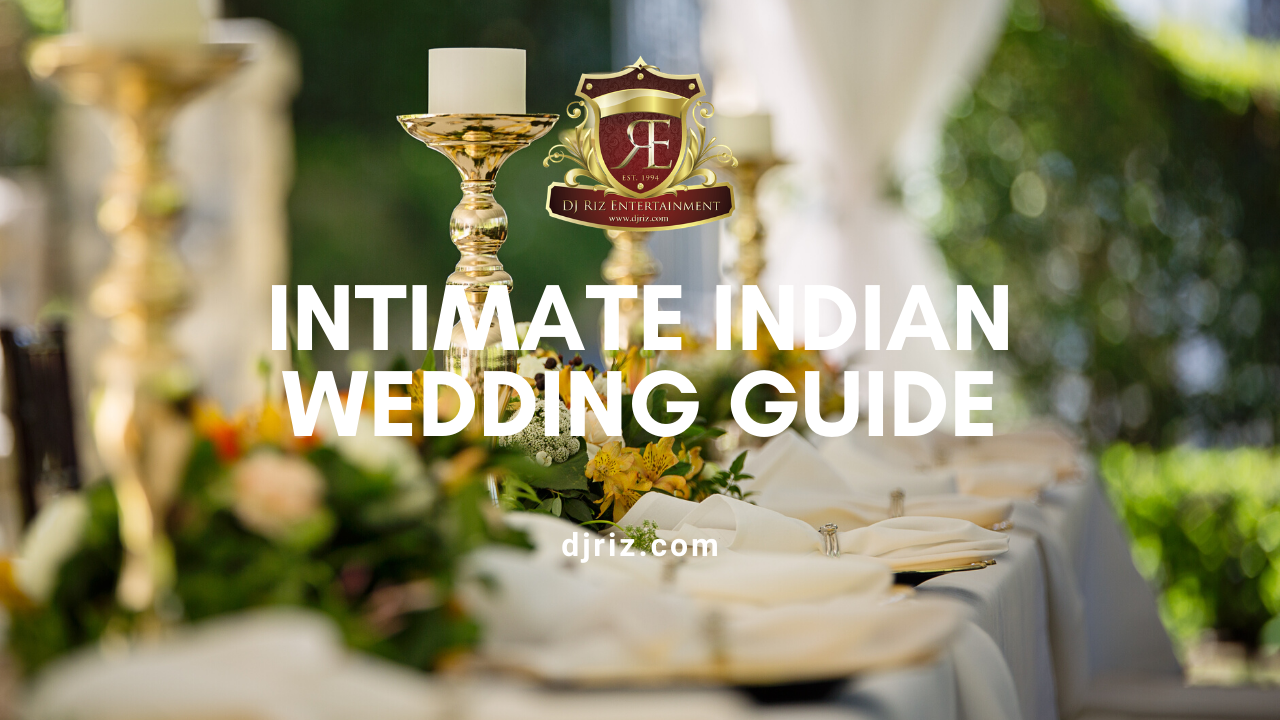 A wedding is the happiest moment in your life and you should have vendors that you love. Over our 26 years of bringing joy to thousands of couples, the DJ Riz Entertainment team has been a part of thousands of couples dream wedding weekends. Given these points, if you would like to talk about music and lighting for your wedding contact us here. If you want new music lists available on Spotify, Apple Music, Youtube or want some nonstop mixes, fill out the form on this page.
If you liked the Intimate Indian Wedding Guide, check out our blogs focused on Tips and Music.