2019 marks 25 years of us djing Indian weddings; so much has changed over time. What started as one person's dream has now become one of the best Indian wedding entertainment companies in America. 12 All-Star DJs that have done events all over America, Canada, Mexico, The Caribbean, Europe and Africa.
In 1994, our DJ services were booked by the parents and we usually provided speakers, microphones and dj services. Things changed in the early 2000's and couples started booking us directly and their wants and needs were different. Most couples today will have us dj for 2 or 3 days for various events. Half the weddings we do now are with both sides being Indian and the other half are mixed/fusion weddings. Our couples for 2020 want to find a balance of doing the traditional part of their wedding weekend and still be able to throw the most epic party of their lives. Along with sound and dj services, they are also booking us for lighting, projector/screens, dancing on a cloud, fireworks, etc.
1) See how baraat's have changed:
Baraat's in America started with just a dhol player. Then it got upgraded with mobile baraats (Live DJ/MC, Van, Speakers, etc.), which is basically a party on wheels. Now there are so many great special effect options. Co2 to keep the baraati's cool, confetti blasts to get everyone excited and color bombs that look great in photos and videos. Grooms usually arrive on a horse but some are riding elephants, helicopters and even luxury cars.
2) The concept of bridesmaids and groomsmen
In the 90s most Indian weddings highlighted the couple, their siblings and their parents. In the 2000's, the trend of having a best man and maid of honor started becoming popular. Now, most weddings have full on bridal parties with groomsmen and bridesmaids. Couples now formally ask their closest family and friends to be a part of their wedding. They will receive gifts either at the time of asking, bachelor/bachelorette parties, or the week of the wedding. Check out this personalized Tumbler we received from Groovy Guy Gifts in honor of our 25th Anniversary. They have some great gifts that the groomsmen will love.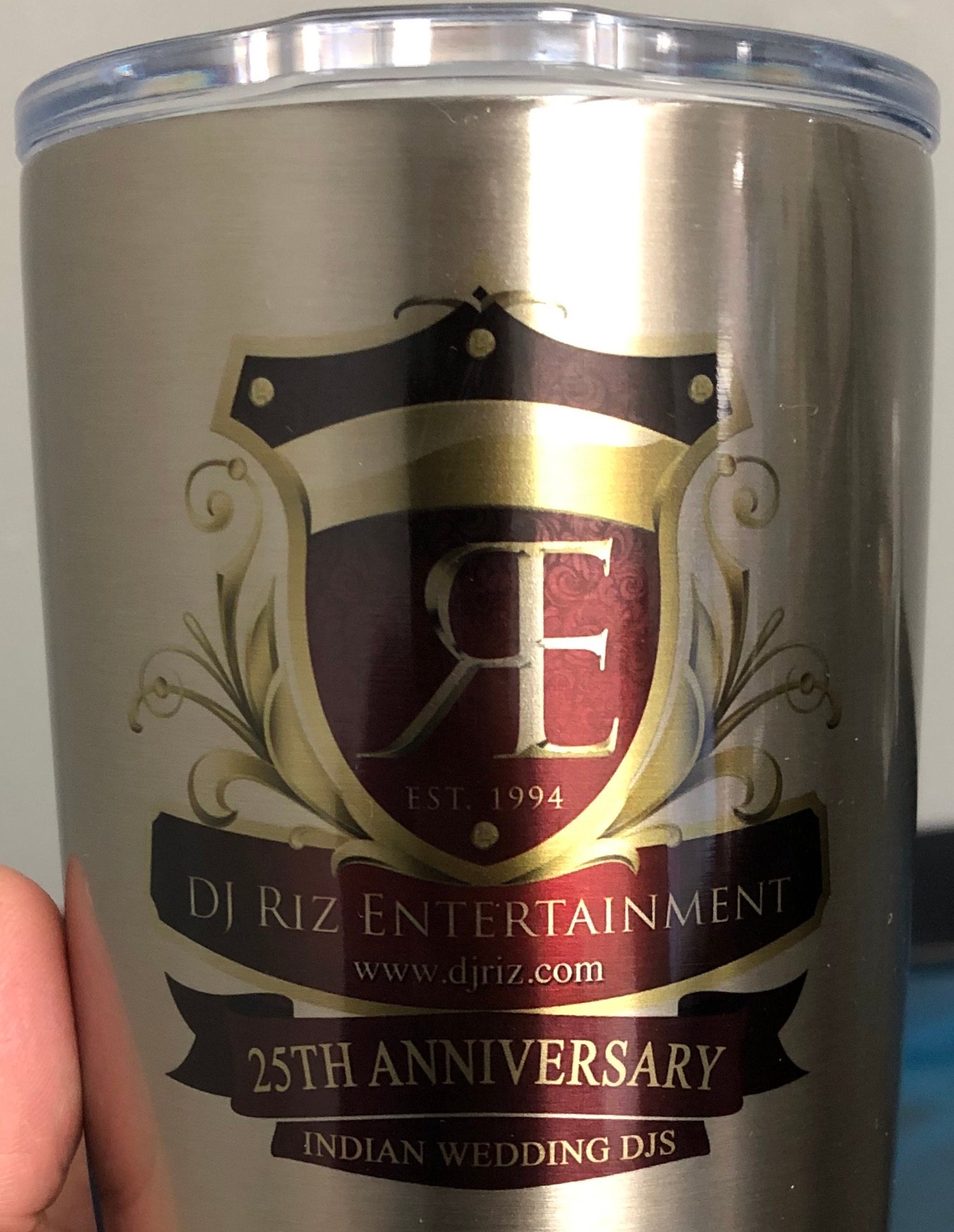 3) Special Effects at the reception
This is probably the best change. Couples are opting to have special effects during their first dance to highlight an even more special moment and give it that wow factor that all of their guests will love. Check out this video showing some of the ways we have helped make many epic first dances.
4) Ceremony length
There would be no wedding weekend without the wedding. Ceremony length has drastically decreased over the years. Couples now opt for shorter ceremony lengths and often take out parts that they want to skip.
5) Decor
Decor has become even more beautiful and grand. People spend the biggest portion of their budget on venue or decor. If you can imagine it (and have the budget for it), you can have whatever you want in terms of decor. Check out our blog, if you need a decorator. If you already have a decorator, make sure you go over these questions with them.
6) Photo & Video style
If you pick up an Indian wedding photo album from 20 years ago, you will see almost every page is filled with group shots on stage. Almost as if people were taking pictures with a cardboard cutout of the couple. The rest of the photos are of awkward poses of the bride and groom. Now the style is more candid and natural. Capturing the emotions that used to only be seen in videos. Check out our blog if you are looking for a wedding photographer. Wedding videographers used to be in your face, loud and very one dimensional. Now, they try their best to be hidden, quiet and are using multiple cameras as well as drones. Great Indian weddings films now are cinematic or Bollywood-esque. Here are some great video companies.
7) Music
This has changed so much. 25 years ago, people would want to hear Indian music all weekend long. About 15 years ago couples started wanting more American music at their weddings. Today, couples want a good balance between Indian and American music. Most 2-Day weddings will have all Indian music on the first day and a combination of music on the second day. For the reception, the percentages will vary from 25% - 90% American music. Think about your family and friends when coming up with your music request list. If you are looking for a great DJ that will help you through this process, contact us here.
8) Venues
When it came to booking a venue people used to book hotels for their bigger events and Indian restaurant banquet halls for their smaller events. Now we don't see many couples doing events at restaurants. Most couples have opted for having both days at the same hotel. Some couples don't like hotels and have started doing weddings at non-hotel venues. There are pros and cons to both. Pick the one that makes the most sense for you. If you want help with planning your wedding, fill out the form on this page and we will send you the direct contact of some wedding planners.
9) Cakes
Cakes have gone from simple rectangle sheet cakes to multi-tier round elaborate, real or faux, and most recently some couples have ditched the traditional cake for sweet dessert bars or dessert stations. If you want something new that your guests will love, check out Candee Couture. They have the best options and their desserts taste amazing. Your guests will thank you for it!
10) Henna/Mehndi
Brides used to only traditional style mehndi only. Now brides add all kinds of cool things to their henna designs like states, sports teams, colleges, characters, skylines, etc. Check out our blog for great henna artists; these ladies have really stepped up their game.
11) Outsourced services
25 years also, couples leveraged their family and friends to help out with their wedding however they could. Now most couples want their guests to enjoy their wedding weekend and have outsourced many of these duties. Today, you will find professionals for Hair & Makeup specialists, Sari Drapers, and Indian Wedding Planners/Coordinators. Hiring these type of professionals will make your wedding weekend a lot better. Fill out the form on this page and we will send you the direct contact of some wedding planners.
12) Wedding Outfits
Couples were limited to the Indian clothing stores in the city they lived in or had to beg family members to bring their wedding outfits for them from India. Then people started traveling within their state to get better outfits, in fact some would even go to other states to shop. Then brides started traveling back to India to buy their wedding outfits. Now you can buy designer Indian outfits online, from the comfort of your home and have them altered to your size locally. Some designers will even have trunk shows in heavily Indian-populated cities or have their outfits available at local boutiques.
13) Social Media
Social media is the biggest change in the Indian wedding industry. Before girls are even engaged, they are looking at and analyzing vendors that their family and friends used at their weddings via Instagram. They want to see their work and whose weddings they have done. They are using Pinterest to pick themes and colors and gather ideas for their dream wedding. Custom filters are bring made for Snapchat (we can help you with that). Couples are coming up with their own creative hashtags to relive pictures and videos posted on social media after their wedding.
14) Destination Weddings
Until the last 10 years, couples would only get married in the city they lived in or where their parents lived. Over the past decade some couples have have moved their weddings to beaches and exotic locations. We have had the pleasure of djing weddings in the Caribbean, Mexico, Europe and Africa. If you need a well traveled and experienced dj, contact us here.
15) Traveling vendors
When couples get married in a heavily Indian-populated city, they normally get all local vendors. If they don't, they would have a vendor from the nearest city drive to them. Now a lot of couples will find a vendor they like and fly them in, even when there are plenty of local options. This is all about making a connection with a vendor or really loving their work. If you love someones work and flying them in for your wedding is worth it, then you should do it. If you have great options locally and are happy with what them, then stay local. Last week we were in Atlanta, Georgia and Birmingham, Alabama. We go wherever our couples need us.
A wedding is the happiest moment in your life and you should have vendors that you love. Over our 25 years of bringing joy to thousands of couples, we love being a part of dream wedding weekends. Given these points, if you would like to talk about music and lighting for your wedding contact us here. Check out this short video from some of our recent weddings.
If you liked the 15 Ways Indian Weddings Have Changed in America blog, check out our blogs focused on Venues, Vendors, and Music.